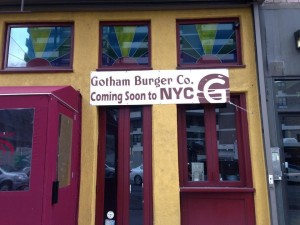 UPDATE: Opening JUNE 5th
WIN: One of 2 $50 Gift Certificates to use at Gotham Burger
The relatively new but successful Teaneck eatery, Gotham Burger, is opening a 2nd location in Manhattan's Upper West Side neighborhood, only blocks from the new Amsterdam Burger Co. (owned by the same owners as Mike's Bistro).
According to Great Kosher Restaurants:
They are turning the place into a sports bar/burger place with a VIP lounge. The owners promise that they will be offering the same great food that they are known for with a NYC edge (think beer in hand watching a large screen TV).  Pre-paid Friday night Shabbos meals will be available once they are up and running.
Gotham Burger replaced Burgers Bar last year in Teaneck, NJ. Burgers Bar, the Israeli burger chain which had locations in Brooklyn, Cedarhurst, and Teaneck, have all closed.
The new burger joint will be opening in the former "Meat Me" located at 726 Amsterdam Ave, between W 95th & 96th streets.

View Gotham Burger Co in a larger map