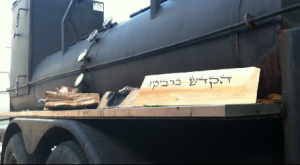 Ari White, the grillmaster behind Hakadosh BBQ, is bringing his Texas Roadside Smokehouse BBQ to streetfairs across New York this Spring and Summer. Those street fairs have historically been void of kosher fare as this will fill a void in the NYC kosher landscape.
This 'pop-up' kosher establishment, if we can call it that, holds a kosher supervision from the Star-K, always with a mashgiach temidi. The meat is from Alle (Meal Mart; Satmer schitta) and Agristar (Rubashkin's).
Their current schedule kicks off this Sunday and runs throughout the warm season, likely through September. Here are some upcoming events they will be present at:
April 7th – Union Square Street Fair – Broadway btwn 17th-23rd Streets
April 14th – Yom Ha'Atzmaut – Location TBA
April 21st – TBA – Street Fair
April 24th – BBQ 101 Course with the Center for Kosher Culinary Arts – Yonkers NY
May 5th – 25th Annual Broadway Spring Festival – Broadway btwn 86-96th Streets
May 19th – North Riverdale Street Fair – Bronx – Riverdale Ave & 256th Street
June 4th – Philadelphia PA – Location & Times TBA – Full Texas Smokehouse Pop-Up Menu
Additional Dates TBA in the following locations:
NYC
UWS / UES / Midtown / Union Sq / Riverdale
West Hampton
5 Towns
New Rochelle
Governor's Island
Teaneck
We will continue to update this schedule as Ari and his team inform us of their upcoming events.
Also, if you're interested in tasting many Kosher BBQ flavors, come out on Sunday June 9th for the BBQ competition of the year, the Long Island Kosher BBQ Championship & Food Festival (where I will be judging!). It's a lot of fun for the whole family and great food. RSVP now.