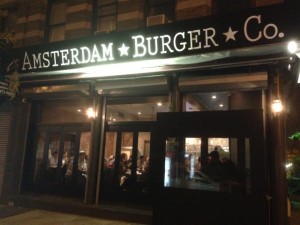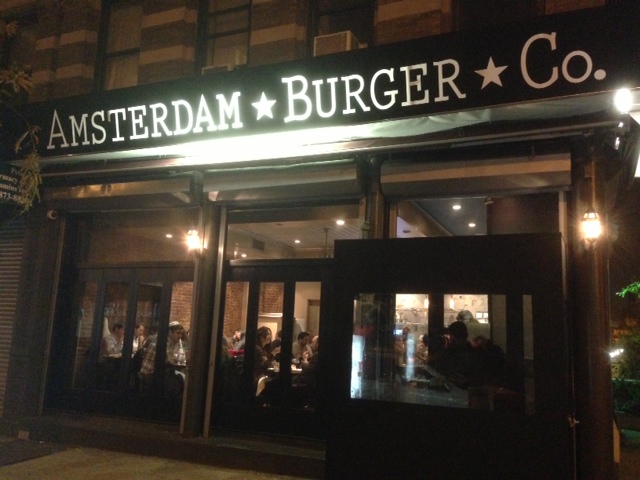 Review by Evan N. Majzner
Most people are cynics as they try a new kosher restaurant. After years of culinary persecution, we have come to expect mediocre food, long waits and poor (read: rude) service.  Well, alas, the Upper West Side has a new restaurant that will restore your faith in the Kosher American dining experience.  And while Amsterdam Burger Company (or ABC, for short) is not without some of the typical flaws of a kosher restaurant, overall, it is a breath of fresh air to kosher diners.
ABC is a new project from Chef Mike Gershkovich of Mike's Bistro.  After shuttering the doors of Mike's Pizzeria, ABC's doors swung open less than four weeks later.
The menu boasts a variety of burgers, sandwiches and bar-style appetizers.  Notably, all beef burgers, hot dogs and sausages are made from pasture raised, antibiotic, and hormone-free meat from Grow and Behold Foods.  To learn more about Grow and Behold, 
click here
.
THE MENU 
For ABC's menu, 
click here
.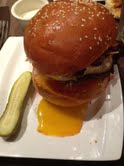 Let's start with the burgers.  ABC's burgers can compete with the best of 'em.  I am not just talking Prime Grill, Deli Kasbah and Talia's.  I am talking about Shake Shack, Corner Bistro and Five Napkin.  Obviously, I have no expectations that ABC's burger is going to all of a sudden jump to the Zagat's top 10 list of burgers.  However, all of my non-kosher friends who frequent those non-kosher burger havens and have tasted ABC boast about the quality of ABC's burger (not to mention the fact that ABC's burger is never accompanied with cheese as the others often are).  The burgers are massive, plump, juicy and innovative.
My Personal Pick
: The Breakfast Burger.  The Breakfast burger is served on a fluffy brioche bun with faux-bacon, potato sticks and a fried egg. The runny egg on top of the breakfast burger provided a perfect compliment to the crunchiness of the faux-bacon; which tastes very similar to a crunchy pastrami.As of now, there is no alcohol at ABC.  Although the mint lemonade was refreshing, a nice cold beer would go even better with a burger.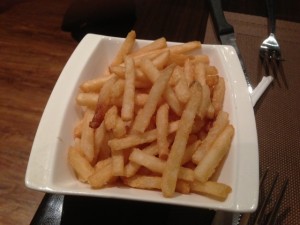 Appetizers and Sides
: The size of the appetizers range significantly.  The wings were surprisingly plentiful and, much like the burgers, delicious.  One of the many mysteries of kosher dining is why kosher restaurants struggle to create a wing that tastes and looks like a "non-kosher" wing.  Yep those wings that all of us Kosher kids drool over when our friends order them at a non-kosher bar while watching football.Well, ABC manages to accomplish just that (with ranch instead of blue cheese dressing).  Now if they could deliver them to local bars, I'd be set until the Superbowl.  The french fries are also excellent, and a great side to any burger.   Other appetizers are significantly smaller.
The Yam Critters, which cost $7, come with just 5 quarter-sized fritters.  I am pretty sure I could have fit 2 full orders of the fritters in my mouth at once and still had room for more.  That being said, if you don't have a huge appetite or stomach, skips the appetizers, one of ABC's burgers alone will do the trick.
The service: The service at ABC is passable, but at times inconsistent.  Food sometimes comes out fast, sometimes slow (always at the same time, in my experience).  During one visit to ABC, my table's burgers came out within 8 minutes.  Kosher bagel shops sometimes take longer to spread some cream cheese on a bagel. During another visit, however, my party of four stood for about ten minutes, as we waited for someone to clean an open table. The restaurant is fairly small, so when there is a wait (and there usually is a 5-30 minute one), there is no where to comfortably stand.  I hope that ABC obtains a sidewalk restaurant license so that they can fit more people when the weather is nice.
Also noteworthy is that ABC will not customize the degree to which you want your burger cooked.  All burgers are cooked somewhere between medium and medium well.  Even upon request, the restaurant would not cook it less or more.  While I understand that they do this for efficiency and speed (which I rarely criticize in a kosher restaurant), I would prefer that they be willing to customize the burgers, if requested.  But then again, maybe good kosher burgers can't be choosers?
Pricing: For a NYC kosher restaurant, the prices are reasonable.  The standard burger starts at $12.  The breakfast burger (mentioned above) is $16.  Neither come with fries, which are $5.  Appetizers range from $7-$16, and as stated above, range in size from tiny to filling.
Overall, for a kosher restaurant, ABC deserves an A.  The prices are reasonable (especially considering that the meat is Grow and Behold) and the food is delicious.  Now that Mike has mastered a bistro, and a burger joint, I am already excited for  his next Kosher endeavor.