We announced not long ago that the owners of the Prime Grill restaurants, which include Solo, would be launching a new dairy restaurant, a take-out pizza joint. Not only is this the first dairy location the group has launched, but it's the first one that doesn't even have seating.
It is also the first and possibly only kosher place in the world where you can purchase authentic Neapolitan style pizza.
Pizza Da Solo, located inside the SONY Atrium building next to their sister restaurant, Solo (which is converting to a dairy kitchen in the coming months) is indeed tiny, with only enough room for a few people to stand and order their pizza or wait, which you will do as well, and possibly only 4 people taking orders / making the pizza.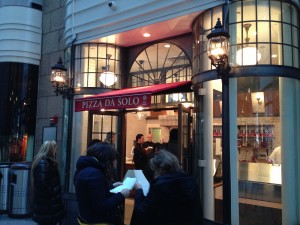 One thing that will shock many are the prices (unless you work on the East Side). These prices are not for your typical pizza "slices", the most expensive of which you're likely to find across town at Bravo Pizza, but rather for personal pies with gourmet ingredients.
Some of those gourmet ingredients include: homemade mozzarella cheese, truffles and truffle oil, Brie, ricotta, fresh basil, arugula, and more.
A personal pie starts at $9 for the Margherita pie, and tops out at $38 for the Al Tartufo pie (truffles, arugula, mozzarella, Parmesan, and truffle oil) dubbed "The New York Times' Favorite Pizza." (Click here for their full menu)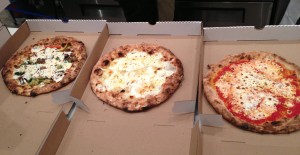 I ordered the "Quattro Formaggi", essentially a four-cheese pie (sans sauce – although I asked for sauce on the side to taste) with their homemade mozzarella, Brie, Swiss, and ricotta cheeses. (It was delicious)
One of the items most overlooked in pizza, I believe, is the dough. Everyone rants or raves about the sauce or cheese, but I find it is the dough that often makes it or breaks it.
I'm happy to report that not only is their dough fresh and perfectly cooked (with a perfect slightly burnt oven crisp at the edges), but their homemade mozzarella is also amazing, and their sauce is quite tasty too!
After ordering, expect to wait about 8-10 minutes for your personal pie to be ready. Each pie is made from scratch in front of you. It's the freshest kosher pizza you can possibly get anywhere.
Even though there's no seating at Pizza Da Solo, it's inside the Sony Atrium where there's plenty of seating available. I had no problem finding a seat at a table at 1:30pm on a weekday.
Overall, it is likely the best tasting, freshest, most unique, fanciest, and priciest kosher pizza you'll be able to find. It's truly not comparable to anything else available today, anywhere.
Pizza Da Solo is certified kosher under the OU.
Pizza da Solo Awesome gourmet #kosher #pizza in #nyc vine.co/v/bHbJLe3aZI0
— Dani Klein(@YeahThatsKosher) March 4, 2013
View Larger Map