Having just flown El Al, I can confirm that there is a need for more legroom and extra amenities in-flight. Now, while I can't be one to complain considering how cheap my tickets were, I'm not sure whether to be excited or insulted that El Al is now offering an upgrade within Economy seating to Economy Class Plus at an extra cost, when frankly, most of this should come standard, especially on a usually expensive 9-12 hour flight. (Actually, Economy Class Plus has been available for a few months now, but I haven't heard a thing regarding this until yesterday, and, as you'll see below, it's impossible to book).
Now many airlines offer a premium Economy experience. According to this review by Mark Feldman in Jpost:
inside the United States, airlines such as United, Delta and Virgin America have an upgraded economy class, which differs only by the extra two to five inches of leg room. Of course no two airlines call it the same thing – some classify it as "economy plus," "economy comfort" or "economy class plus" – and each entails different benefits.

Australian airline Qantasoffers a "premium economy" class that includes premium check-in, large customized seats, seat pitch up to 41 inches with 50 percent more recline, premium meals, a personal in-flight entertainment center and an amenity pouch containing items such as socks, sleep masks & ear plugs.

From Tel Aviv, British Airways has been one of the pioneers of premium economy, offering it on flights to and from London to great success, as well as across the Atlantic.

Passengers enjoy sitting in a completely separate cabin, marketed by BA as "World Traveler Plus."

From Tel Aviv, only five airlines fly non-stop to North America: Air Canada flies to Toronto, US Air to Philadelphia, Delta to JFK, United to Newark and El AL flies to JFK, Newark and Toronto. The first two airlines have no first class; The offer only a superb business class and a comfortable economy class.

Delta Airlines was the first to introduce the "economy comfort" class, offering extra legroom in the first cabin of economy class on their refurbished 747. You can enjoy an extra four inches of leg room and 50% greater recline as well as complimentary liquor. You can drink to your heart's content, with prices ranging from $150 to $200 more per seat.

It must be stated, though, that all members of their Diamond and Medallion frequent flier clubs get these seats for free. All who purchase a full-fare economy class ticket, which starts at $2,588, can also sit in these seats.

United Airlines, too, is rolling out economy plus seats on its twice-daily Boeing 777 flight to Newark. United's elite frequent-flier members get the seats for free, and the general public can purchase them for similar rates that match Delta's.

El Al, though, has chosen a different path.

Leave it to top management at El AL, when offered a viable way to increase revenue, to offer a muddled product.

Tens of thousands of dollars have been earmarked for advertising in both print and television, heralding their dramatic news: El Al Economy Class Plus.

Using the tag line, "For you, there's always more!" El Al states that you can now enjoy a more comfortable, pampering and pleasant flight experience. Comfortable seating in an ergonomic seat with a footrest, more personal space, and quick and easy check-in entice potential customers.


In fact, their press release states this new package, which is only available on Boeing 747-400 planes to and from JFK, Newark and London, include the following: Designated check-in counters; Individual entertainment system; More comfortable work and entertainment environment, including an electric outlet; Economy Class meals; Alcoholic beverages as served in Economy Class; Special comfort kit; Business Class pillow and blanket; And many more features for a richer flight experience.

It all sounds wonderful and, like most airlines, frequent fliers and anyone paying for a full-fare economy class ticket gets these perks for free.
On El Al, it costs $150 for the upgrade for long haul flights (presumably from North America), and $80 from Europe. I believe this is each way, so double per round trip.
Now, even if you wanted to book these Economy Class Plus seats, how do you do it?
I went to ElAl.co.il and tried booking one of these tickets.
I found no option to choose this class on the home screen (see image).
I continued throughout the booking process and found no option while choosing my flights and pricing (see image).

There was no option to book Economy Class Plus on El Al's website. I went all the way through the process, until payment. Nothing.
OK. Maybe Expedia has the option?
I did a regular flight search, changed my seating preferences to "Premium Economy" (the only option Expedia offers) and guess what I found? El Al options? Nope. 2 airlines: Air France & Brussels Airlines offering Premium Economy seats to Israel (see image).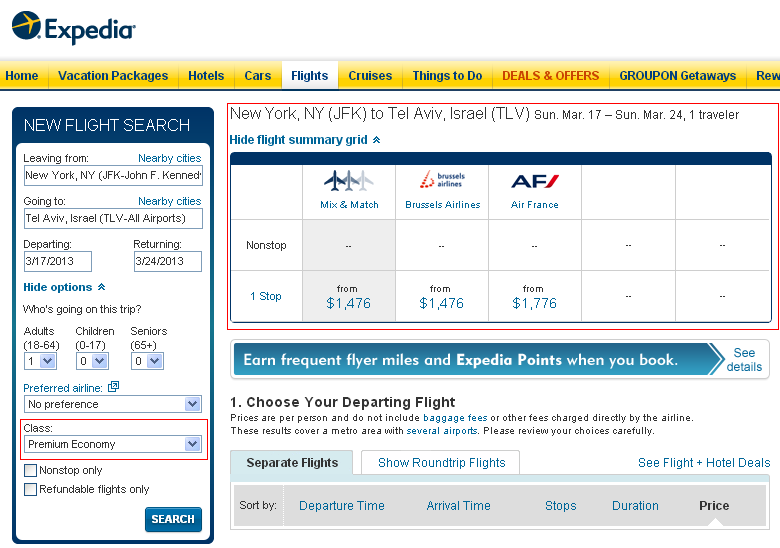 To top it all off, El Al created 2 videos marketing this product, one in English and one in Hebrew.
The English one insults my intelligence. The Hebrew one I'll admit is somewhat entertaining.
ENGLISH:


HEBREW:


What are your thoughts here? Comment below.