For the many parents whose kids are off from school next week due to "Yeshiva Week" vacation, we know how tough it could be to keep the kids entertained for the week, whether you're staying at home or heading on vacation.
Here are some tips for those of you staying in (or headed to) NYC, Miami, and Israel.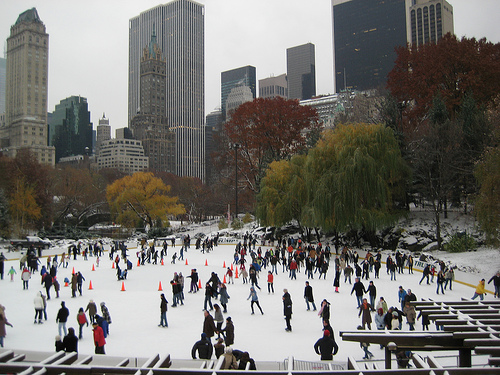 NYC:

Skiing / Snow tubing / Snowshoeing – Nothing gets kids more excited than playing in the snow. Head out to western NJ or eastern PA. There are plenty of places that have fake snow (assuming we don't get hit by then with a blizzard) to help the kids run out their energy on the slopes. And you'd be surprised how young they're able to teach kids how to ski! Snowshoeing is like hiking in the snow with special contraptions on your boots. This may only work if there's significant snow on the ground.
Ice Skating – another great winter activity, especially in NYC! So many options:


Manhattan:
Central Park (2 Rinks), Bryant Park, Rockefeller Center, Chelsea Piers, Riverbank State Park, Liberty View Rink

Brooklyn:
Abe Stark Rink (Coney Island), Aviator Sports, [Ice skating will return to Prospect Park in late fall 2013 – currently under renovations]

Queens:
City Ice Pavilion, World Ice Arena

And many more…

Museums – There are so many museums in NYC, it's hard to count or to list even a fraction of them. I recommend picking a theme (NYC, Jewish, Art, History, Science) and make it a fun / educational experience by visiting multiple museums from that category during the week.
Miami:
Zoo Miami – it's a bit of a drive from Miami Beach, but if you're bringing the kids, it's worth it. It's a large zoo and will take a few hours to see everything. Also, there's a fun old school train museum next door that kids will love as well called the Gold Coast Railroad Museum Park.
Jungle Island – formerly Parrot Jungle, is a great place to bring the kids, and is a big closer to the Miami Beach area. There are some animal shows, lots of parrots, and a large playground for kids.
Indoor activities in case the weather isn't cooperating: There's a Children's Museum in Miami & one in Ft. Lauderdale that has a IMAX theater. (Always have at least one indoor activity as a backup plan. It can rain a lot in Miami in the winter).
Israel:
Mini-Israel – a mini replica of all the major sites across Israel

Mamilla Mall – maybe this is a place you can go without the kids. Get a babysitter, go at night, and choose from one of the great restaurants there overlooking the Old City in Jerusalem.


Jerusalem's Old Train Line Promenade – take a long stroll (or bike ride) along the city's former tracks, now a pedestrian / bicycle path starting across the street from Gan HaPa'amon heading south for a few miles through Baka, Talpiyot, and other neighborhoods.
HaYarkon Park in Tel Aviv – massive park with lots of activities for kids of all ages. Definitely a great place to go when the weather is nice.