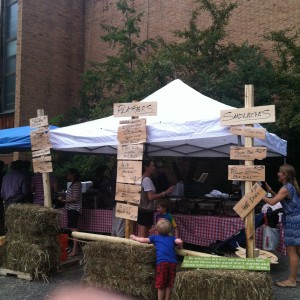 Review by @BethanyShondark
Last night the first Kosher pop-up BBQ opened in the parking lot of the Riverdale Temple in Riverdale in the Bronx. It's supervised by the STAR-K and is the brainchild of Gemstone catering. There's a buffet line with every kind of barbeque option available with side dishes like baked beans, cole slaw and mashed potatoes. There's also authentic corn bread and a dessert and drinks station. There's no liquor license so it's BYOB mevushal wine or beer.
I attended the opening night last night as soon as the cash registers opened at 4pm (they run 4-10pm every night this week, ending Thursday).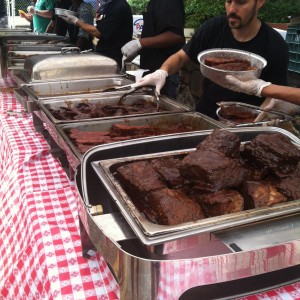 Despite just opening, the line went quickly and seamlessly, my husband paid with a credit card and the cashiers had iPads ready to process cards (including American Express).
The full menu is available on their
Facebook event
. We got the Texas sampler, which came with two sides and cornbread and found that it was filling enough at $36 for the two of us.
We went with friends and they did the same, and ordered a peach cobbler for dessert. All of the food was flavorful, warm and delicious. There was plenty of tented seating and water was available for free.
It was great family dinner on par with the food at Smokey Joe's in Teaneck – lots of young couples with kids were seated around us.