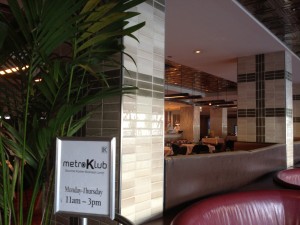 Contributed by Dani Klein | Last Date of Travel: August 2012
Heading to Chicago on a 2 day business trip and staying in a hotel downtown, I knew it was going to be difficult to have kosher meals for breakfast, lunch, and dinner without leaving the city.
If you know in advance that you're not going to be able to leave the city, bring some pastries with you and buy some fruit locally for breakfast.
For lunch you'll have a few of options: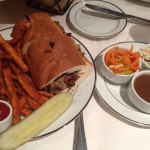 1) Take a taxi to MetroKlub. It's a kosher restaurant within a non-kosher restaurant within the Crown Plaza hotel. The prices are a little high but the food (that I tried) was good and the portions are large. Click here for my full review (but I do recommend it). If you're stuck in the city for lunch, order an extra sandwich here and hold onto it for dinner. I can recommend the French Dip sandwhich, which I thoroughly enjoyed. (See pic)
2) Have MetroKlub deliver to your office. This is not as simple as it sounds as they use a service called CEO Deliveries who takes their orders. Contact them at (312)733-5019 and be prepared with your order from MetroKlub's menu (and be sure to mention the restaurant name) and your credit card info. Beware, you'll be paying for both delivery & the fee for using this service, but there's no other option for delivery. I ordered the Buffalo Chicken sandwich which traveled well and was tasty. (See pic)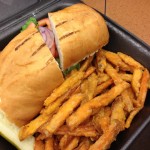 3) Kotel Kosher: a small sandwich shop inside the French Market of the Ogilvie Transportation Center (train center). Open 10am – 7pm. Click here for our review of Kotel Kosher.
4) Order from one of the restaurants in Skokie or West Rogers Park. If they deliver, expect to pay for the cab fare, which is likely upwards of $30-40 + tip.
5) You can order sandwiches via the Chicago Loop Synagogue, which caters in food from The Sandwich Club catering in Skokie. They receive a mix of about 10-20 fleishig sandwiches and wraps (with other sides, chips, cookie, and a drink) daily (Mon-Thurs) and are typically all gone after 12:30pm for $11. You can reserve a sandwich in advance by calling the shul, but you must walk to the shul to pick it up. They do not deliver to your office or hotel. On Wednesdays, they have a "hot lunch and learn" which is $12.
You can also order dinner (or something specific for lunch) from The Sandwich Club which will deliver to the shul at no extra delivery charge.
6) Chicago Kosher Dinner – I just learned that Chicago local, Yoni Kirschner, offers delivery service from any Skokie/West Rogers Park restaurant to downtown Chicago for a flat $20 fee, which is cheaper than option #4. Call or email Yoni: 773-682-7749 / [email protected]
Read up on other Kosher options in Chicago, including outside the city in West Rogers Park & Skokie here: Kosher in Chicago, IL