Photos and article by @AmySpiro, Israel correspondent
It's a popular tourist destination for visitors from all over the world, and with good reason. A trip through Mahane Yehuda, more commonly just called "the shuk," is an experience like no other, and one you can spend 10 minutes or a whole day completing. I often pass through and grab something as a snack, or spend an entire day buying everything from baking supplies to household products, clothing, vegetables, beef and cheese, before settling down for a nice meal at a restaurant.
But while you can wander aimlessly and certainly enjoy yourself, here are some places you should definitely pay a visit to in your tour.
If you prefer a more structured visit, you can buy a "shuk bites" card on the shuk website – machne.co.il. For NIS 99, you receive vouchers for 10 different spots in the shuk, ensuring a variety of tasting experiences.
There are two main streets in the shuk, often referred to as the "covered section" (Mahane Yehuda St.) and the "uncovered section" (Etz Haim St.), which run parallel to each other, plus several little alleyways that connect the two. It's not a large area in the city, but it is so packed full that you can find just about everything – music stores, cosmetic stores, clothing stores, housewares, candy, cereal, jewelry and more.
If you choose the self-guided option, here are some of my favorite places to stop:
Discovered another great place to stop in the shuk? Let us know in the comments!
Bakeries –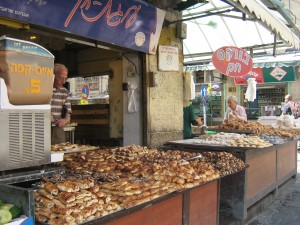 Ugat Chen – On the corner of Mahane Yehuda and Haeshkol streets, this is one of my favorite places to stop for fresh bread. Piping hot pita bread – both regular and whole wheat – as well as nice loaves of challah and rolls are always available, and for excellent prices.
Duvshanit – Also in the uncovered section, this is where I (too) frequently stop by to grab some savory burekas, my favorite of which is definitely the potato mushroom. They sell tons of sweet baked goods as well, but the flaky pastry and tasty fillings of the burekas are definitely my favorite.
Pe'er – Pe'er is known for its sweet treats in addition to its breads, though on a Friday afternoon it seems the whole stand is overtaken by types of challah (the sweet variety is especially good). Located about halfway down Ets Chaim St.
Teller – Teller, a bakery renowned for its selection of healthy and whole grain breads, has two storefronts within a couple minutes of each other – one deep in the shuk, on the corner of Ets Haim St. and Eliyahu Banai St.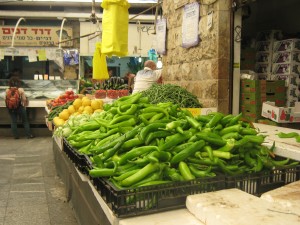 Fruit and vegetable stands –
Places selling fruit and vegetables inside the shuk are as ubiquitous as a guy screaming how much strawberries cost per kilo. The covered section of the shuk has many more such places, and they tend to be cheaper and more extensive than those on the uncovered section.
Throughout the year, specific stands pop up selling just strawberries or just cherries or just watermelon, and produce availability changes from day to day.
Restaurants –
Pasta Basta – As I've already reviewed on YeahThatsKosher, this pasta shop is one of my favorite cheap and quick and eats and is open late.
Cafe Mizrahi – Right at the heart of the shuk, on Hashazif St. (one of the little alleys connect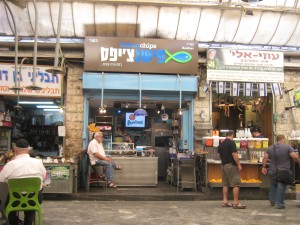 ed the covered and uncovered sections), Cafe Mizrahi serves up tasty fare from the classic shakshuka, a variety of salads, sweet goods and the extra-tasty "Jackie Chan" – a noodle stir fry. Open til 10 p.m.
Fishenchips – I'm not much of a fish eater, but I have many friends and family members who rave about this little eatery, with its freshly fried fish filets and french fries. Pair your meal with a icy cold beer for a memorable dinner.
Rebar: Restaurant might be a strong word for this fruitshake stand, but leaving it off this guide would seem wrong since it's basically the reason I go to the shuk most days. With a wide range of drinks with all sorts of fruits, yogurts on sorbets, a stop here on my way to work is basically the only way I can handle the walk. Located on the uncovered section, next to Agripas St.
Other –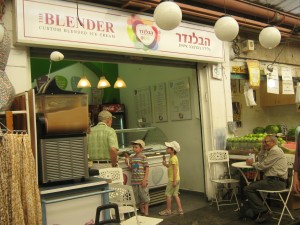 Basher Cheese – Probably the most famous dairy seller inside the shuk, Basher is known for having the fanciest imported cheeses. But there is no kosher certification on the entire store, so check each individual purchase for certificate before buying. About halfway down Ets. Haim St.
The Blender – This newish stand in the shuk offers personalized ice cream: choose your base, mix-ins, toppings and cone for a tasty treat. On Ets Haim St. closer to Agripas St.
Shuk Spices – One of the most extensive spice stores in the shuk, Maimon also sells some top-quality dried fruits and nuts, including my favorite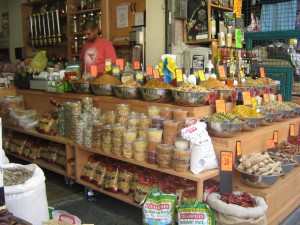 purchase, dried coconut strips. The owners know their stuff so feel free to ask for some spicy advice. On Mahane Yehuda St.
Timing –
It should come as no surprise, but Friday afternoons (and mornings for that matter), the shuk can be a little crazy to navigate. If you enjoy elbowing burly men and little old ladies to get the best mushrooms, then by all means, go right ahead and visit. If not, try to pay a vist from Sunday-Wednesday, morning or early afternoon hours.
Most vendors in the shuk pack up shop in the early evening hours and by 6 or 7 most places have closed. Several of the restaurants and some of the hidden bars remain open very late, when the shuk switches from an open-air market to a nightlife spot.
Getting there –
The light rail stops right outside the shuk on Yafo Street (the stop is named "mahaneh yehuda") and a dozen or so buses stop on the other side of the shuk on Agripas Street, including the 6, 7, 8, 18, 21, 25, 32, 45, 60, 74 and 75.