Article and photos by @AmySpiro, Israel correspondent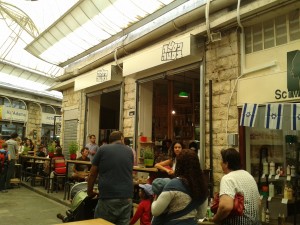 There are many restaurants that get their clientele from their locations on main thoroughfares. But it's the ones hidden away from the public eye – and heard about by way of mouth – that often have the tastiest fare.
Such is the case with Pasta Basta, a tiny hole-in-the-wall in an alleyway off of Mahaneh Yehuda (aka, the shuk).
If you can't tell from its name, this eatery basically serves one thing: pasta. If you're not a fan, then this is definitely not the place for you. But if you love the carbohydrates, pull up a seat.
You have three choices to make here: pasta shape, sauce and toppings.
The restaurant offers penne, fettuccini and whole wheat fettuccini. That was one of the only disappointments here – I would have preferred a more varied selection. No ravioli? Spaghetti? Macaroni? Orecchiette? But all their options are hand made at the store, and taste exceptionally fresh.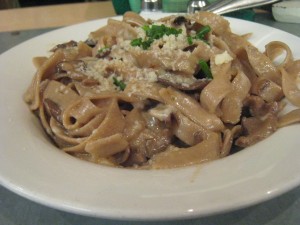 Regardless, I soldiered on to the next step: sauce selection. Here is where things get interesting.
From classic tomato; to butter and parmesan; curry and coconut milk; pesto; and four cheese (roquefort, yellow, parmesan and cream), and everything in between, there is something for everyone.
You can always stop there, but with a list of tempting toppings available, it will be hard. Roasted mushrooms, kalamata olives, feta cheese, artichokes and even smoked salmon are all options.
I selected whole wheat fettuccini with butter and parmesan and roasted mushrooms and my dining companion went with regular fettuccini, the same sauce and sweet potatoes.
Both of them were pretty tasty, and I would love to come back and try more variations and combinations.
If you really don't like pasta – then what are you doing there? – there are also a few soups and salads you can try, plus a variety of housemade desserts that I've heard good things about.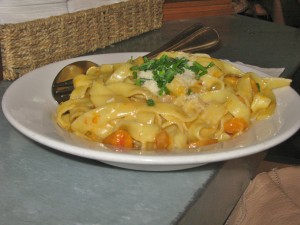 Because it's just a tiny storefront in the shuk, there isn't much in the way of seating – maybe about 6 cramped tables plus a few more random ones across the path you can try and snag – and it is often full.
The atmosphere is what you make of it – late at night it's more a bar-type scene, midday you can come across just about anyone and try to tune out the yells of the guy selling fish 10 feet away.
Prices vary greatly on what sauces and toppings you select – penne with tomato sauce would be NIS 19, while a dish with pesto, feta cheese and smoked tuna would cost NIS 49.
Pasta Basta (website in Hebrew only)
8 Hatut Street (the first small alley off the main uncovered section of the shuk near Agrippas street)
077-5404633