Article by @AmySpiro, Israel correspondent
Move over Ben Yehuda Street, there's a new hotspot in Jerusalem, and it's Emek Refaim. Of course that's if hotspot means teeming with yeshiva and seminary students and tourists. The long street is located just South of the center of the city, about a 15 minute walk from downtown. Close to the Inbal Hotel, the King David Hotel and the Dan Boutique Hotel, it's a great place to stop for a meal, walk around and check out the locals.
It's not hard to see why this street is popular: practically every other store is a restaurant and with some real standouts, you can eat very well in this part of town. Here is what's on offer – kosher-wise – in the order you'll spot them if you're walking down the street from the direction of the center of town.
Big Apple Pizza – Right at the beginning of Emek Refaim's restaurant row sits this simple pizza joint, with unfortunately more Israeli than New York style pizza, but still a popular option with Anglos and Sabras alike. 19 Emek Refaim.
Burgers Bar – If a New York restaurant offered you chimichurri or a fried egg on your burger you'd probably look at them as if they were crazy, but welcome to Israel! Burgers Bar is an enormously popular chain that churns out reliably tasty burgers, schnitzels and other grilled specialties for reasonable prices. Whatever you get, add the garlic mayo. 20 Emek Refaim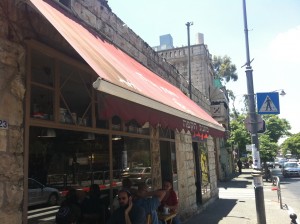 Coffee Mill – If you know coffee, then you'll want to stop by this place, where instead of the sole option of "Cafe Hafuch" most Israeli joints offer, you can get coffee from Guatemala or Ethiopia as well as flavored varieties from mint to chocolate or butterscotch. 23 Emek Refaim.
Joy Grill – By now Joy is a well established player on the Emek Refaim scene and it's usually pretty crowded. That's probably because it manages to keep a wide menu that pleases everyone while still incorporating innovation – like roasted duck breast with caramel or citrus flavored chicken. 24 Emek Refaim.
Waffle Bar – Yes it's a chain restaurant, but what a tasty one it is. It's hard to go wrong on this menu, with their delicious laffa toasts or savory crepes. Plus don't forget the main event – the waffles. Topped with ice cream and chocolate sauce (or about 10 other options) – that can be a meal on its own. 24 Emek Refaim.
RYU – Despite the long tradition of Jews loving Chinese food, it's not a cuisine that is super popular in Israel, but RYU manages to serve a pan-Asian menu that pleases all. From stir frys to sushi to pad thai – and of course egg rolls – every member of your family should be pleased. 25 Emek Refaim.
Luciana – This dairy Italian restaurant sells a variety of bruschetta, focaccia and salads, plus of course nine types of pizza and a whopping 19 different pasta dishes, as well as fish options. 27 Emek Refaim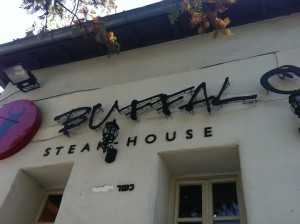 Baba Israeli Kitchen – Basically a hummus joint, but with an expanded menu that includes kebabs, chicken wings and steaks. Of course the hummus is the star, and with 16 different varieties, you're sure to find one that appeals. 31 Emek Refaim.
Masaryk – Yes it's another Italian restaurant filled with pasta and fish dishes, but Masaryk offers some more exciting dishes than most, like pinenut ravioli or goat cheese and eggplant gnocchi. Plus they have eight different fish dishes if that's your kind of thing. 31 Emek Refaim.
Caffit – This is as close to permanence as restaurants in this area of town get – and Caffit has been serving up its menu for over 20 years. That includes a kids menu, a breakfast menu and a special Friday menu, in addition to their reliable salads, pastas, fish and sandwiches. 35 Emek Refaim.
Pizza Italia – Serving an untraditional rectangular pie, this little storefront offers exactly what you'd expect – pizza – from standard versions to red pepper or spicy red chili, and it's sold by weight so you get exactly how much you want. 38 Emek Refaim.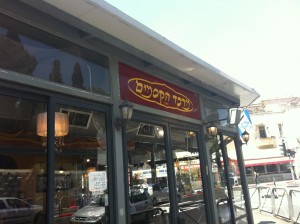 Ben Ami – Half cafe half bakery, you're better off stopping in at this little restaurant for dessert than lunch. And of course for people watching, another favorite Israeli pastime, and this is the perfect location for it. Emek Refaim 38.
Marvad Haksamim – Like its counterpart on King George Street, Marvad Haksamim serves up hearty Israeli soul food, from the classic kubbe soup to kebabs and hummus that comes with freshly baked flatbread. 42 Emek Refaim.
Holy Bagel – It's a battle of the bagels, and I'll pick Holy over Tal any day. Price and quality play a role in that decision, and this is a great place to grab a sandwich on your way to… anything. 42 Emek Refaim.
Shnitsi – I don't know about you, but I practically lived off this stuff when I was in seminary. The style at Shnitsi is one that has been copied by numerous schnitzel joints in the US these days: Pick schnitzel or grilled chicken, then pick your veggies and dressing to finish off your delectable sandwich. Of course, they sell things like burgers and salads and wings too, but really, just get a sandwich. 42 Emek Refaim.
Aroma – What is there really to say about Aroma? Sandwiches, salads, coffee (with chocolate on the side) – nothing exceptional, except perhaps the warm farmer's salad – this is always chock full of Americans and Israelis tapping away on their laptops. 43 Emek Refaim.
Pizza Sababa – Hey, it's another pizza joint! This one is a pretty typical Israeli version, with toppings only a sabra could love…. like corn, eggplant or artichoke. They also have a small selection of pastas and salads. 43 Emek Refaim.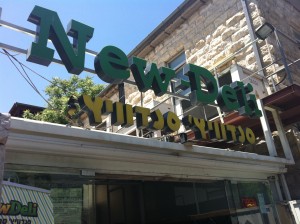 New Deli – Yes, it's a terrible pun for a name, but if you're looking for deli, this is the way to do it. Pick from a dozen deli meats and white, whole wheat or rye bread, veggies and sauces and take a huge bite, for just 25 shekel. Plus only an extra 10 for doubling your meat. And why not throw in some fries for another 10? 44 Emek Refaim.
Cafe Cafe – One of the most ubiquitous cafe chains in Israel (neck-and-neck with Aroma), you won't find a whole lot of innovation on the menu (except maybe their pumpkin coconut soup in the winter) but you'll still find the salads, pastas and fish done well. 44 Emek Refaim.
La Boca – Hidden on the second floor of a building, La Boca is nevertheless sought out by locals and tourists alike, who are eager to try their nice selection of tapas, or perhaps the chili con carne, chorizo or paella epagna. Don't miss out on the warm churros. 46 Emek Refaim.
Sushi Bar Rehavia – It's hard to go to a Jewish event – wedding, bar mitzvah, kiddush – without sushi being served these days, and the same is true about Emek Refaim. So this branch of the Sushi Bar that is actually found in Rehavia (on Aza Street, though there are now two other chains) provides some pretty extensive sushi offerings, plus a long list of meat Asian offerings. 48 Emek Refaim.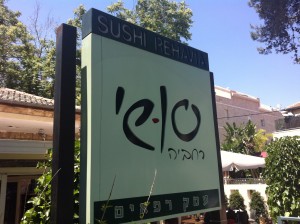 Buffalo Steakhouse – This is a steakhouse in the true sense of the word, with six options of its namesake as well as a fairly extensive selection of lamb, chicken and beef. The upscale restaurant doesn't exactly come cheap, so bring along a solid amount of cash. 54 Emek Refaim.
Hamoshava 54 – Yes, 54 is the address, but it's also the most expensive item on the menu, making this a great pick for budget eaters. The menu is divided into four sections: foods priced at 10, 20, 40 and 54 shekels. So mix and match anything from home fries to salmon to beef carpaccio or steak. 54 Emek Refaim.
Cafe Hillel – Another ubiquitous cafe chain, Hillel is slightly pricier than most but I have a soft spot for their pasta dishes and foccacia. They have a wide enough menu that just about everyone will find something to enjoy. 54 Emek Refaim.
Tal Bagels – You're more likely to hear English than Hebrew at this more-than-just-a-bagel store, which offers a variety of breakfast and lunch options, though perhaps a little overpriced than most bagel places. Still a tasty hangout for a homesick New Yorker. 64 Emek Refaim.