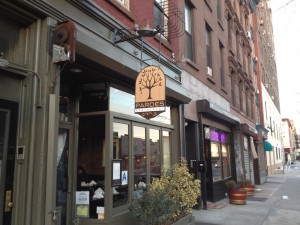 For a special treat, I decided to buy tickets to a Sheakspeare play, Richard III, at BAM (Brooklyn Academy of Music) in Downtown Brooklyn (starring Kevin Spacey), for my 5 year Anniversary with my wife. I also knew that we would have the opportunity to finally try Pardes, which we've heard many good things about.
In order to make our 7:30pm show, and truly enjoy the restaurant, we made early reservations (between 5 & 5:30pm) and were only the 2nd couple to arrive at the restaurant for dinner. (Rest assured, by the time we left the place was full).
The restaurant itself was small, with a rustic vibe, and dim lighting. It's a great place for a date or a night out with friends, not really a place to bring the kids.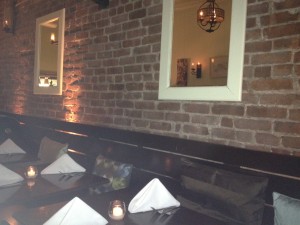 Upon being seated, our menu was displayed on a singular piece of paper on a clipboard. All of the menu options were quite unique from the typical Kosher restaurant we were used to. Additionally, various artisan breads greeted us and let us know we would not go starving tonight.
Read more and Scroll down for a chronological list of images that corresponded to our meal.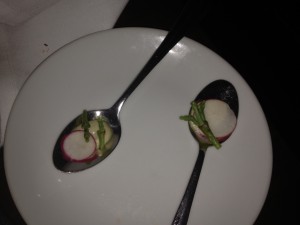 After we placed our carefully decided order, we were handed an amuse bouche on a spoon: anchovy foam with radish and seabean. It was a big taste in a tiny bite. It's really great that they surprise their customers with little amazing surprises. Not enough Kosher restaurants do this today.
Our order consisted of one shared appetizer, one bread main dish, and one non bread main dish, and eventually dessert.
Unlike most kosher restaurants, Pardes' waitstaff was attentive to our needs, filling our glasses, and recognizing when something may go wrong. In our case, our appetizer (actually titled "Meat Snack") was taking too long to prepare. We had ordered the Chicken n' Porcini Waffles with Apples & Chestnut. Since the kitchen was taking too long with the dish, our waitress brough us a complimentary portion of Smoked Paprika Popcorn to tie us over. It was hot and fresh, with lots of sticky paprika peppered all over it.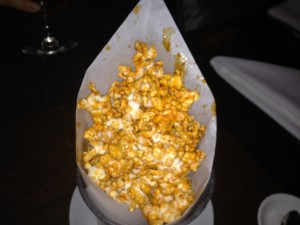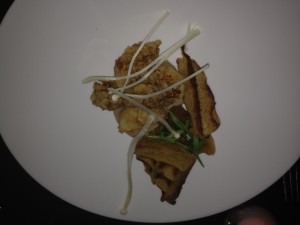 Our Chicken n' Porcini Waffles finally arrived and while it was a small portion, it was
unbelievably delicious. This was probably the first time I ever had fleishig waffles before, and I enjoyed it immensely. Even by the end of the meal, 3 dishes later, we were still raving about the waffles. I only wish they made a main dish sized portion.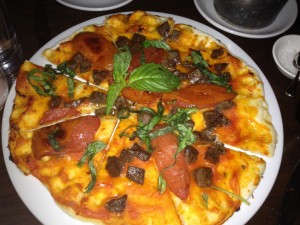 Another example as to how Pardes is different from other Kosher restaurants: they actually serve you the food you ordered in order of the courses. You actually get a full 3 – 7 course meal, depending on what you order. There are not many places today, at least in the kosher world, that do this.
For our next course, we were served the Beef Cheek Pizza, with 24hr roasted tomato and fresh basil. Now I love pizza, but I really wanted to try their take on cheeseless fleishig pizza. I've also never had beef cheek before, so I was doubly intrigued. The pizza was really good, the beef cheek substituted cheese really well. Truth be told, we were near being full at this point, but had already ordered our main course.
For our main, we decided to be really daring, and we ordered the Goat Ragout with Saffron & Burdock, Smoked Paprika Orriechiette. Ironically, this most expensive of our courses, was our least favorite. The orriechiette, a type of pasta, was cooked al dente, purposefully, and the goat meat was shredded on top. Both the texture and flavor of the dish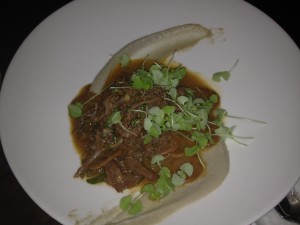 were underwhelming for us, but we were glad that we were adventurous enough to even try it.
Somehow we managed to find some room in our stomaches for dessert (you always do!). We ordered the Bourbon Baba, Popcorn Ice Cream, and Smoked Peanut Brittle plate. The peanut brittle was a great, albeit tiny, addition to the ice cream, which was pareve and truly tasted like popcorn. The baba was a delicious pastry infused with raisins and obviously some bourbon. We were very pleased with our dessert choice.
It's safe to say that Pardes is an upscale, boutique kosher restaurant, with a talented and adventurous chef. The presentation of the portions, as well as their relative small size (Of all the food we were served, the largest of the portions was the beef cheek pizza), made us feel as if we were on a kosher version of the Iron Chef America TV show.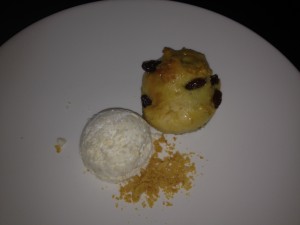 It may not be a place you can afford to go to every week, but if you're going out and celebrating something special, this is definitely a great place to go. Be prepared to spend at least $50/person for a full meal without any drinks. (Since my wife and I are not really wine drinkers, we preferred to order more food in its place).
Don't expect huge portions. This is an upscale restauarant similar to upscale non-kosher restaurants. Portions are much smaller than what you would get at a "fast food" type of place.
Advice: because the restaurant is small, make reservations at least a week in advance. Don't attempt to arrive without a reservation.
Also, I was notified that there is a chef's tasting menu (approx. $100/pp) which must be ordered at least a day in advance of your reservation. Enjoy!