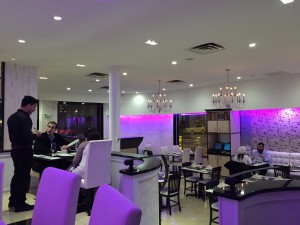 I was invited to enjoy a tasting dinner by the chef/owner of Brasserie Halevi last week with a couple foodie friends. I was one of the first people in the restaurant at around 6pm, but by the time I left around 9pm, the place was nearly packed.
The restaurant is one of only 2 that I can safely say is "high-end" in the 5 Towns. The other being Prime Bistro in Lawrence, however, these places are vastly different in their menus and ambiance. [Click here for the Brasserie Halevi menu]
The ambiance is very modern, including white leather seating, blue and pink LED lighting, as well as a lower floor with 3 flat screen TVs for NFL and other games. The main floor includes a well stocked bar when you walk in.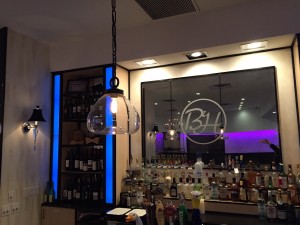 We tried a few different appetizers, some I enjoyed more than others. We had the sweetbread ragu, lamb lollipop meatballs, thanksgiving eggroll, and shortrib ravioli (appetizer sized). My favorite of the four was the Thanksgiving Eggroll, and not because it was the day before Thanksgiving. Think normal eggroll, albeit larger, stuffed with juicy dark meat turkey, mashed potatoes, and chestnut stuffing, served with 2 dipping sauces: cranberry and gravy. The eggroll dipped in gravy was delicious and I'd eat this over the typical dry Thanksgiving turkey any day. I highly recommend this, although it may only appear on their autumn menu.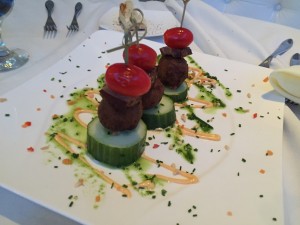 The lamb lollipop was interesting. It included a large cucumber at its base, which was a bit unnecessary, a ground meat lamb meatball, which was definitely more flavorful than most meatballs, then topped with a tasty square of smoked lamb (bacon style). Both the sweetbread ragu and the shortrib ravioli came in similar tasting sauces, but I preferred the ravioli here, where its flavors and texture were more appealing to the sweetbread. My friend who joined me for the meal, who typically loves sweetbreads, said he really enjoyed the sweetbread dish, so it could be a matter of taste. We tried a number of entrees, albeit in smaller portions, including the Queen Cut Rib Eye, Duck Two Ways, Potato Crusted Chilean Sea Bass, French Cut Chicken Breast, and a Braised Breast of Veal. We ended up receiving a few dishes on its own, and to our surprise, a large platter with four entrees on it (we ate a lot).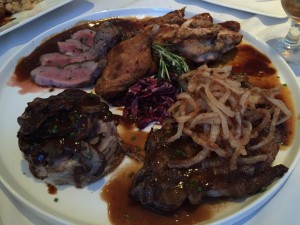 The rib eye we received on the platter came in a red wine demi sauce, served with fried onions on top and truffle fries on the side. The steak was delicious and juicy, and the onions added a great flavor to the meat. The fries were a nice touch as well, if you like the flavor of truffle oil. The duck two ways came with duck breast served rare and a duck leg confit served crispy. I preferred the breast as it was moist and tender. Others liked the confit. Again, to each their own preference. It was served with a pumpkin risotto prepared very nicely; the texture was perfect. The French cut chicken breast was served crispy on the outside, tender on the inside. While I was not a fan of the crispiness, the flavors were wonderful. I tasted an array of spices that I hadn't experienced mixed together previously.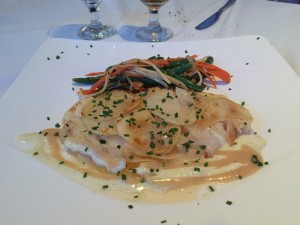 My least favorite from the platter was the veal breast served with mashed potatoes and mushrooms. It was likely the sauce that didn't do it for me, but my companions did seem to enjoy it. Outside of this platter we also tried the potato crusted Chilean sea bass, which initially had a fishy smell, but it dissipated and was actually quite good. Never had potatoes with sea bass before and it was a good pairing. Throughout the meal, the servers were attentive to our needs and kept bringing out drinks from the bar for those at the table who requested them. The restaurant has a full stocked bar up front where diners can eat, drink, or wait for their group to arrive.

I also explored the downstairs level which is smaller, but equipped with 3 flat panel TVs specifically meant for events, whether it be for sporting events and open to the public, or reserved for a sheva brachot or other simcha serving a private party. I am definitely considering going back for a large sporting event and ordering from their special "bar menu" which has less fancy options suitable for enjoying the game. As our meal was coming to a close we were treated to a platter of their top 4 desserts:
Pumpkin Pie, Mississippi Mud Pie, Chocolate Mousse, and an Apple Tart … all made fresh in house. It was actually quite impressive and tasty for pareve desserts. They're not comparable to the types of desserts you'd get at a place like Pardes, but they were tasty on their own.
Overall, my impressions of Brasserie Halevi are positive. I understand that many had lukewarm to negative experiences when they first opened, but I believe the restaurant should be given another chance. Of all of the dishes I tried, I would order at least 50-75% again. The service was attentive and courteous. One important difference between B.H. and most other high-end kosher restaurants are the prices. Have a look at the menu. The prices are not astronomical and well within the means of an affordable nice dinner. That's probably the biggest difference maker for this restaurant. Is it the best food? No. The food is good. The ambiance is nice. The service is attentive. The price is right. Pretty good bang for your buck if you asked me.