Contributed by: Matt Erlandsen | Author resides in Santiago, Chile
Kosher Info:
When it comes to think about kashrut in this corner of the world, you won't believe that Chile actually has a wide array of places to dine out. The cuisine varies with options from sushi houses to Mexican food to shwarma and pizza.
Falafel Asly was the first kosher restaurant to open in Santiago, and in Chile. Carmit Tzabari, its owner, supervises and keeps the store placed in front of the Estadio Israelita (Av. Las Condes #8400) that looks like a typical small fast food restaurant in the Middle East. The flavours that it offers, a fusion of Arab-Israeli food, are the same as those found in the streets of Jerusalem. The specialty is the famous Falafel Asly (CLP$1,750, about USD$4), that's pita bread stuffed with chickpea fritters, hummus, cabbage, carrot, cucumber and tomato salad dressed pure Israeli taste dressings.
It opens Sunday through Thursday 11am to 10pm. Friday 11am to 4pm and. Saturday closed in honor of Shabbos. Kashrut is under the supervision of Rabbi Itzjak Shaked of Chofetz Chaim Synagogue (Av. Quinchamali #14159, Las Condes).
Another fleishig restaurant to visit in Las Condes area is Mi Refugio Food Store (Camino a Farellones #14345 local 2, Las Condes). Only a couple of blocks away from Aish HaTorah (San José de la Sierra #070, Lo Barnechea) and Chofetz Chaim Synagogues and right in the bottom of Los Andes mountain, public will be able to try several different dishes including French fries, hamburgers and soy sausages all served in a very Chilean style. Its pareve ice-creams and deserts are famous among the orthodox community and a absolute must. Ernesto Vareshtein (Argentinian and also the owner of another 2 brand new kosher restaurants in Santiago) keeps the store updated in terms of hechsher, showing the framed certificate behind the till.
Kashrut is under the supervision of Rabbi Avraham Horowitz, of Aish HaTorah and Principal of Maimonides School.
Further information can be found here (only in Spanish).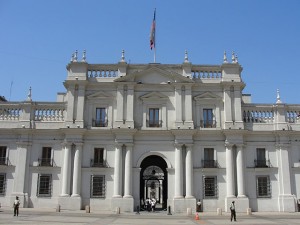 Travel Info:
Santiago is a safe, clean and modern European city in South America. Local people love to feel proud of that. With a wide mix of Spaniard, Italian, Croatian, Yugoslavian, German, British, and French roots, the Jewish heritage is not very present in the daily routine. Besides a huge menorah lit by Chabad in front of the Hyatt Hotel every Channukah, there's not other Jewish milestone in the city.
If you are on your way to Easter Island or the Patagonia, you'll probably like to make a stop over in Santiago and enjoy a 48 hours tour.
Santiago has a safe and a almost-brand-new transport system that interconnects the subway and all the buses running across the city. If you wish to ride the public transport, you'll need to get a Bip! prepaid card at any ticket booth in the Metro Stations.
To start visiting this city you'll probably want to do so by Palacio de La Moneda (La Moneda metro station, Red Line 1). The courtyard of the Presidential house of Chile is very easy to enter and there are awesome sculptures by Chilean artists worth seeing. Tours of the inside of the building need to be planned in advance. Be sure to toss a coin into the fountain and make a wish.
After that, the tourist can walk eastbound across Alameda Avenue and reach the Santa Lucía hill, where the city was founded by Pedro de Valdivia in XVI century. This hill takes 15-20 minutes to climb and provides another sweet view of the city. There are various murals, statues, lookouts and ponds hidden all over the Cerro, and multiple ways to get to the peak.
La Chascona, one of the 3 homes of Chilean poet Pablo Neruda, the place is decorated with an incredible collection of anything you can imagine from all over the world and is also host to his Nobel Prize. There are rooms designed to create the feeling that you are on a ship, and there are some great views of the city.
One of the more bohemian streets in Santiago is Lastarria street in downtown (centro) area, go for a stroll at night and pick from one of the many restaurants or cafés to eat at. During the day/evening, there are a few street vendors that cater to the more sophisticated crowd, like the guy who sells original prints of historic Chilean newspaper editions (including the first report of the 1973 military coup). You can also head towards Museo Bellas Artes from here and there are even more mid-upper range restaurants, cafés and bars to chose from.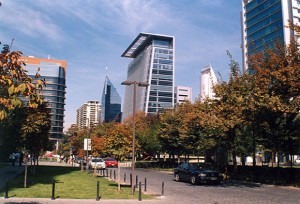 The ultimate nightlife sector of Santiago is also very centrally located in Bellavista. Tons of bars (for drinking), and discotecas (for dancing and drinking). There is also plenty to do here during the day, but be on your guard at night as there are many drunks and people looking to take advantage of outsiders.
You cannot miss Sanhattan/El Golf: Get off the metro at stops Tobalaba or El Golf to see the modern second financial center of Santiago.There is some great architecture here and awesome sculptures all around, including a series of painted horses down the main drag, walk thourgh Apoquindo or Isidora Goyenechea avenues eastbound.
The Sculpture Park, along the banks of the not so beautiful Mapocho River running through Santiago lies a tranquil park with about 30 sculptures made by Chilean artists. This is a gem of the city that I have never seen talked about in English guides to Santiago. Make sure to check out the concerts in the park in summer months (January-March). Get there from metro Pedro de Valdivia station, walk north on Pedro de Valdivia street to the other side of the river and it'll be on your right hand side. Ask anyone for "Parque de Esculturas" if you feel lost.
Jewish Info:
When you think in Chile, you probably think about the last corner of the world. In some aspects, that's right. The small Jewish orthodox community over there isn't bigger than maybe 200 families spread over five frum shuls (there are a lot more conservative and reformist temples) and only one daily school -and its conservative counterpart.