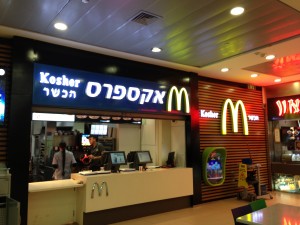 It's a common misconception that all the McDonald's restaurants in Israel are Kosher, and that when you are in Israel you can pass by any Mickey D's and have a guilt-free "cheeseburger" off the Dollar Menu.
This is untrue (for many reasons — what Dollar Menu?!), but luckily there are nearly 50 Kosher McDonald's spread throughout Israel, certified Kosher by their local Rabbanuts, to satisfy the American kids in all of us who have been lusting after those Chicken McNuggets and Big Macs (known in Israel under a different name) since before we could remember. (Don't pretend you never wanted a Happy Meal!)
[
Israel isn't the only country with Kosher McDonald's. Click here to find out where else it exists.
]
Below is a list of the cities in Israel featuring Kosher McDonald's (some have multiple). "B'Teyavon," or should we say–"I'm lovin' it." (See the map below for full location info)
Ashdod (2)
Ashkelon
Be'er Sheva (3)
Be'er Yaakov (Assaf HaRofeh Medical Center)
Bet She'an (Kinyon Binyamin)
Bet Shemesh (Big Center 1)
Chadera
Dimona
Gedera
Givat Shmuel
Haifa (University of Haifa, Kinyon Lev HaMifratz)
Hod HaSharon
Jerusalem (Tachana Merkazit, Beit HaKerem, Malcha Mall)
Kfar Saba (Meir Medical Center)
Kiryat Ata
Kiryat Gat
Kiryat Shmona
Mevaseret Tzion (Kinyon Harel)
Modi'in
Or Yehuda
Petach Tikva (4)
Ra'anana (Kinyon Rananim)
Ramat Aviv
Ramat Gan
Ramla
Rechovot (Mall)
Rishon L'Tzion (3)
Rosh Ha'Ayin
Shoham
Tel Aviv (Tel Aviv University)
Tel Hanan
Tel HaShomer
Tel Mond
Tiberias / Tiveria (2)
To view the original Hebrew list with exact addresses, click here.

View Kosher McDonalds in Israel in a larger map