Contributed by: Gavi Lewy-Neuman | October 2008
Kosher Info:
There are 2 chabad centers in Shanghai – one in Pudong, and one in the main part of Shanghai on Hong Qiao Road in the south-eastern part of town. 
I haven't visited the one in Pudong, but info can be accessed at www.jewishpudong.com.  From personal experience, I can say that the Chabad Jewish Center offers free of charge, delicious meals on Friday night and Shabbbat day. They also order kosher, Israeli products online, and you can order as well through the Chabad center.  Their website (www.chinajewish.org) advises that fruits and vegetables can be purchased locally but to wash them very carefully with disinfectant soap and water.  Buy from street vendors at your own risk.  Food and challah can be purchased from Chabad, as well.  Some of the local supermarkets do sell American products, so look for a kosher hechsher. 
Suggestion: Bring your own Traditions soup or packaged soups that just require added hot water.  A main part of the Chinese culture is soup, and on-the-go most Chinese people will have "cup-of-soup" equivalents, and to cater to that, hot water is available everywhere, even on long distance trains. This goes for everywhere in China. 
Tourist Info:
Shanghai is a terrific city with a ton to do. There are a number of historic sites and other fun places to go.
I would suggest using The Lonely Planet (either for all China, or specifically for Shanghai) to help you get around and to give a good, detailed overview of what to do. Shanghai's the chosen location for the upcoming 2010 World Expo, and so the city is doing its best to prepare for being impressive and giving a good experience to all its visitors. I enjoyed The 88th floor Observatory at the Jin Mao tower in Pudong area for an amazing view of the whole city.  There is a lot of pollution though, so visibility quality may vary…. it is still an amazing experience, as the tower was the tallest building in China until 2007. The elevator is ridiculously fast, getting you up to the observatory (where you get a complimentary pearl, which they try and coax you into turning into a not complimentary necklace, or set of earrings) in under 45 seconds.
The BUND is quite historic, and definitely worth a visit.  It is the area next to the Huangpu River on the main side – there are lots of buildings with beautiful architectural designs.  The Lonely Planet walking tour is suggested as it gives info on what you are seeing and where is worth your time.  There is lots of construction in the area though, which does take away from the overall experience.
Renmin Square, or People's Square is a great place to visit, and lots to see in the area.  I would recommend visiting the Shanghai Art Museum, which has amazing modern art and interesting exhibits.  The Jade Buddha Temple is certainly worth a visit, and the acrobatics show is a no-miss.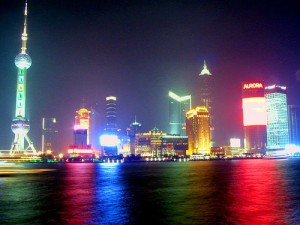 I would also recommend stopping by and seeing a show at the Shanghai Grande Central Theater. It is a small venue, so even the cheapest seats give you a great view of the incredible program. 
Jewish info:
Both Chabad Centers are great Jewish outlets. In the Hong Qiao area, they have minyanim on Shabbat, and I believe during the week as well.  The Rabbi and Rebbetzin are very welcoming.  On Friday night dinner, all the new and visiting people are required to get up and introduce themselves to everyone.  There are mainly French-speaking people there (although not the Chabad family).  In the Pudong area, there are some old, not-in-use synagogues that are now tourist attractions, and have lots of history to them.