Contributed By: Avi Narrow-Tilonsky | Last Date of Travel: August 2007
Kosher Info: In Dharamkot, right outside Dharamsala, the Chabad center attracted about 200 people for Kabbalat Shabbat and Friday night dinner. Very few people speak English if that is a concern for you.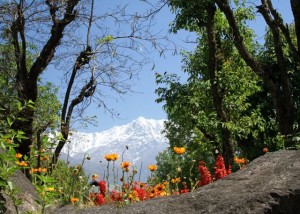 The Beit Chabad in Dharamkot also runs a restaurant which serves a terrific shnitzel sandwich. You can eat your sandwich while sitting on colorful pillows on the floor, watching the mist sift through the Himalayan mountains, and exchanging travel tales with new friends. The meals on Shabbat are free but sometimes you have to share a cup with the person sitting next to you, so don't be afraid of germs. In Dharamkot, there is also a Breslov couple that hosts visitors on Shabbat, but I did not visit them.
Tourist Info: Dharamsala is a non-urban region of northern India near Tibet, Kashmir, and the Himalayan Mts.
The main tourist area of Dharamsala is Mcleod Ganj where the exiled Tibetans are headquartered.  Most Israelis stay in the next town over, Dharamkot.  Along the main road, there are many stalls selling handmade Tibetan crafts and jewelery.  Also, it is worth spending a few extra rupees to get a room with a view of the mountains in a guest house (not many hotels).  The museum of the Tibetan Exile is a must see and on rare occasions the Dallai Llama delivers public lectures.
Jewish Info: The Chabad house has Shabbat programming and lectures and events during the week.  Additionally, Chabad runs a short term yeshiva program a few times per year.  It is mostly attended by Israelis that take some time out of their travels to study chassidut.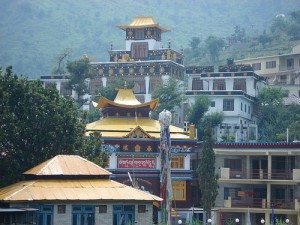 In Dharamsalla there are many Buddist sites, including the Dallai Llama's temple, which might be religiously problematic.  Think it through before visiting.