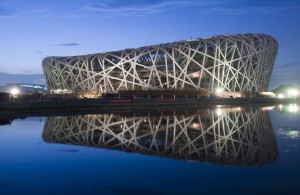 Contributed by: Gavi Lewy-Neuman | Last Date of Travel: October 2008
Kosher Info:
There are 2 Chabad centers in Beijing.  The main Chabad house is located in the Chaoyang District, in the northern area, whereas the smaller Chabad center is further south from there (both in the east of Beijing).  I only visited the larger of the 2 centers. There is a kosher restaurant in the same vicinity, called Dini's Restaurant.  (Note: there is an Israeli restaurant almost next door to Dini's, and even though it has Hebrew writing on the sign, it is NOT kosher).  The restaurant is meat and delicious and fairly priced.  You may order food "to-go" there.  The Shabbat meals, both Friday night and Shabbat day are eaten in the restaurant as well (not at the Chabad house!).  Go to www.kosherbeijing.com for Restaurant info.
There is a supermarket "chain" (there are at least 2 of them) in Beijing called Jenny Lou's, and they sell a ton of American products, many of which are kosher.  They even have kosher soy milk there.  I believe there is another supermarket called "Super Center" that also sells a lot of American products.  Exact information can be received from contacts at Chabad.
Suggestion: Bring your own packaged soups that just require added hot water.  A main part of the Chinese culture is soup, and on-the-go most Chinese people will have "cup-of-soup" equivalents, and to cater to that, hot water is available everywhere, even on long distance trains. This goes for everywhere in China. Traditions soups (and its equivalents) will be very helpful in China.
Tourist Info:
Beijing has extensive subway system great for getting around, and any trip, no matter destination costs only 2 Yuan.  The subway is preferable to on road travel due to lots of constant road congestion.
There is plenty to see in Beijing and its surrounding areas.  I would suggest not to miss the Great Wall of China (any part will do – Badaling is the most touristy, and easiest to get to by public transport), The Forbidden City/Tienanmen's Square (a private guide of the audio guide is well worth the investment – both can be picked up right outside the entrance), and the Olympic village.  Having just hosted the 2008 Summer Olympics, Beijing exhibits great pride in that fact, and the Olympic village, home to the National Stadium (or "Bird's Nest") and the Water Cube… all well deserving of a visit.  Get there before 3pm to ensure the ability to buy an entrance ticket to the Water Cube, and before 5pm for the Bird's Nest.  There is lots more to choose from – read up about it and choose for yourself! Lonely Planet has been a very useful guidebook to lead me around Beijing.
Jewish Info:
Visit www.chabadbeijing.com for full details.  The main chabad has minyanim on shabbat (most of the time) and sometimes during the week.  There is a Mikvah located by the Jewish School about 30 minutes from town (get details from the Chabad family).   Get directions in Chinese and English on the website, and print it out to show to a taxi driver.  The website will also show places to stay within walking distance nearby.  No youth hostels are really within walking distance under an hour, but there is a budgeted hotel called the Home Inn closer by.  The whole Chabad family, including the children really add to the atmosphere and they are very welcoming.  The re are currently 3 Chabadnik girls brought in from France to help with the Shlichut and they too are very much a part of the community.   Chabad Beijing = a really wonderful experience!