Anyone who has been paying attention recently would be able to tell you that tourism in the Jewish community is on the rise. There are cruises all over the world that provide kosher food, all-inclusive hotels with minyanim over Shabbat exist in a handful of foreign locations, and you can find a Chabad house in virtually every corner of the earth.
But while all those options are amazing, vacation doesn't need to include a kosher cruise. Don't be afraid to keep it simple and do something that would've been possible a decade or two ago.
Sports tourism is on the rise worldwide. It's an industry worth almost 600 billion dollars annually. And while much of that is people going to big events like the Super Bowl or the World Cup, you can have a great time enjoying a couple of regular-season baseball games. Fill out your schedule with a few other noteworthy spots and you've got yourself a memorable trip for a reasonable price compared to trying to snag tickets to the Olympics.
This article is a guide to a sports-themed trip to Missouri, but feel free to do your own research and make up a trip of your own. Most cities that have professional sports teams have a Jewish community big enough to be of help when you're traveling.
---
DAY 1: St. Louis, MO

One of the reasons Missouri makes for a good destination is it's fairly centrally located in the United States. Air travel is necessary given the distance from most other cities, but it's close enough that the flights aren't too long. My itinerary had me flying into St. Louis (flights are between 2.5 and 3 hours from NYC) and landing in the early afternoon. But before your plane even touches the ground, you might be able to see what should be your first stop after landing.
The Gateway Arch is the tallest national monument in the country. At 630 feet tall, the stainless steel structure was built in the 1960's in tribute to the westward expansion of the United States. It's located in what is now called Gateway Arch National Park, adjacent to the Mississippi River in downtown St. Louis.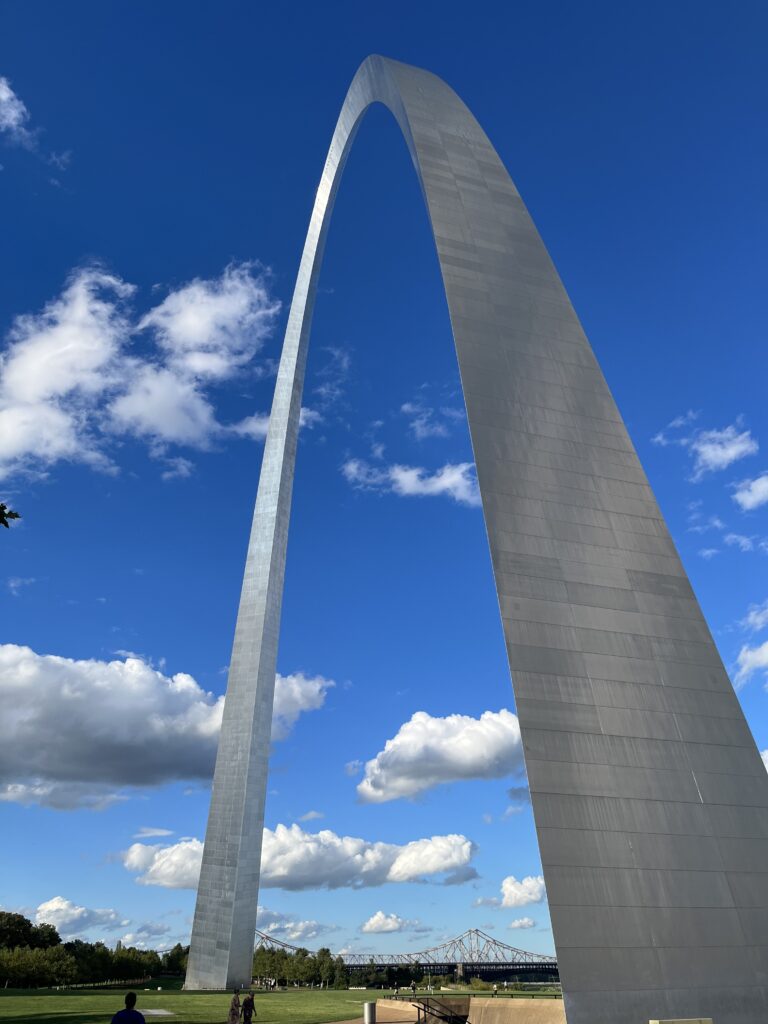 What does the arch have to do with sports? Not much, but you simply can't visit St. Louis and not visit this incredible sight. However big you think it is, it looks bigger. In fact, it's so tall that if you stand under it and look up, you will likely witness an optical illusion that makes it seem like the arch is moving and the clouds are stationary. It's truly amazing.
There is a structure built underground at the base of the monument that houses many things to do. The museum will teach you everything you need to know about how St. Louis became the "Gateway to the West," there's a documentary about the arch's design and construction, a new virtual reality experience will transport you back to 1850, and they even have a riverboat cruise that provides unique views of the arch and downtown St. Louis.
But if you are working with limited time, the Tram Ride to the Top is something you can't miss. You'll get to go to the top of the arch and look out at the city of St. Louis. The view is one that you won't soon forget.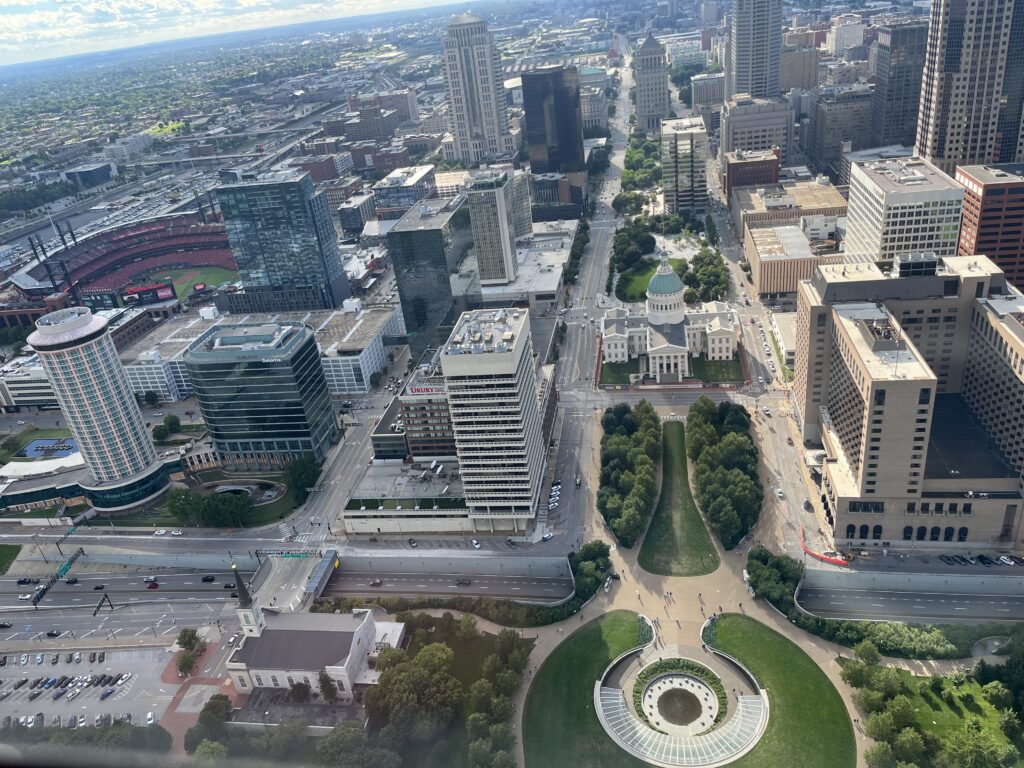 One of the places that you'll be able to see from the top is Busch Stadium, the home of the St. Louis Cardinals. After leaving the arch, the ballpark is only a few blocks walk, so you won't have to move your car from where you parked it earlier. The area around the stadium is called Ballpark Village and you'll find a really great vibe on game day. There are multiple shops where you can find different types of souvenirs, including one that specializes in game-used items.
One of the most interesting elements of Ballpark Village is the St. Louis Cardinals Hall of Fame and Museum. With such a strong history, the Cardinals are one of a handful of teams that have their own standalone museum outside the ballpark. Get to the stadium with enough time to spend an hour or so here. Not only are there multiple elaborate displays like a room with memorabilia from every Cardinals World Series championship team (11 of them, going back to 1926) and a wall with every Cardinals bobblehead ever produced, but they also have a exhibit where you can try on a World Series ring or lift the bat of a Hall of Famer (provided you wear gloves).
Before heading into the stadium, you might want to swing by the statues outside. With such a storied history, the statues are numerous. With a dozen bronze figures representing the history of baseball in St. Louis, this is one of the most impressive collections of its kind in all of sports.
Busch Stadium is a fine stadium that is mostly known for the view of the arch (it can be seen behind the outfield). It opened in 2006 and is one of the "retro-classic" style ballparks, a tribute to Oriole Park at Camden Yards in Baltimore. There's a reason that style was often imitated. The park has a clean, modern feel, but also gives the impression that you're enveloped in the American pastime.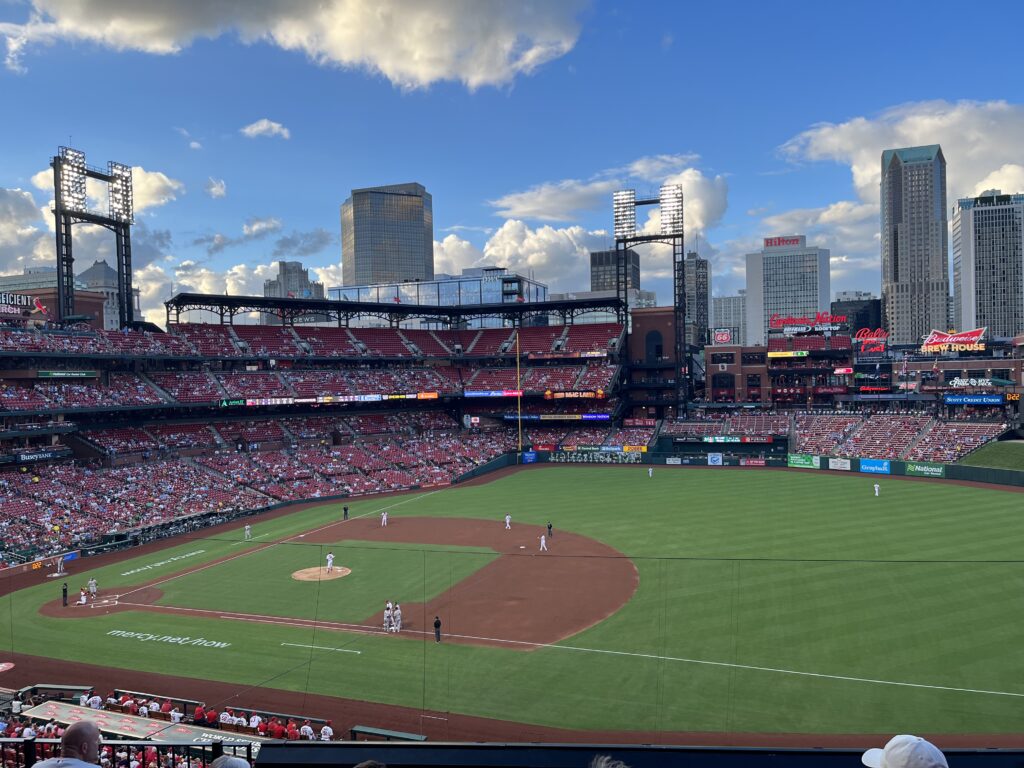 One thing that you certainly want to check out is the stadium cart by Kohn's Kosher. The deli itself (located at 10405 Old Olive Street Road) was founded 60 years ago and is a staple of the Jewish community in the area and the only kosher meat restaurant in town. You might be asking how a community with only one kosher fleishig restaurant is able to support a stand in the stadium. The cart is actually very popular with all types of fans (maybe not vegetarians), kosher-keeping or otherwise. In fact, their offerings have been featured in some online lists about the best ballpark food around the country.
It's not a large menu, but it's a strong one. They're famous for their "killer pastrami" which they serve on top of a hot dog or on bread as a sandwich. They also have corned beef sandwiches and you can order a hot dog on its own if you're less adventurous. Let's just say that the pastrami lives up to the hype. It goes well in the sandwich, but getting it on top of the hot dog with your choice of toppings is really the way to go. I'd suggest ordering two because you'll likely want more than one, but the line gets quite long and you don't want to miss too much of the game.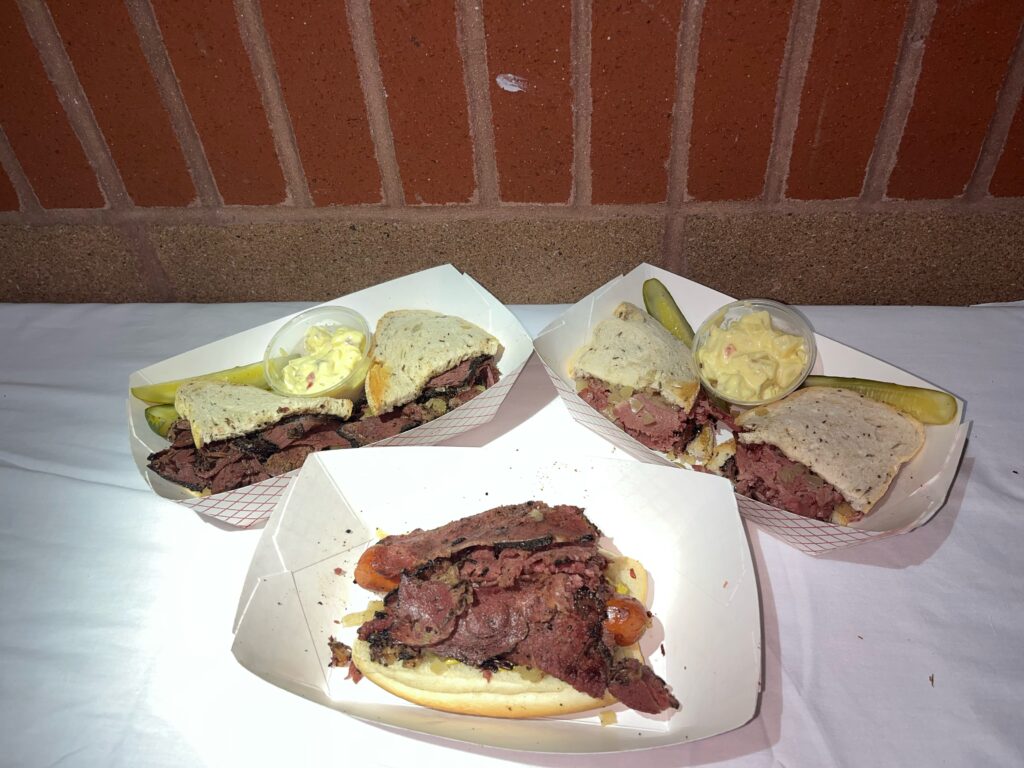 As mentioned above, the community in St. Louis might not be the largest, but it's been there a long time and is firmly established. With six orthodox shuls, you won't have trouble finding a minyan if you're looking for one. Several local supermarkets have kosher sections that might help you stock up before you skip town.
After the game, it's time to head west, much like the arch would suggest. But we aren't heading to California or even leaving the state.
---