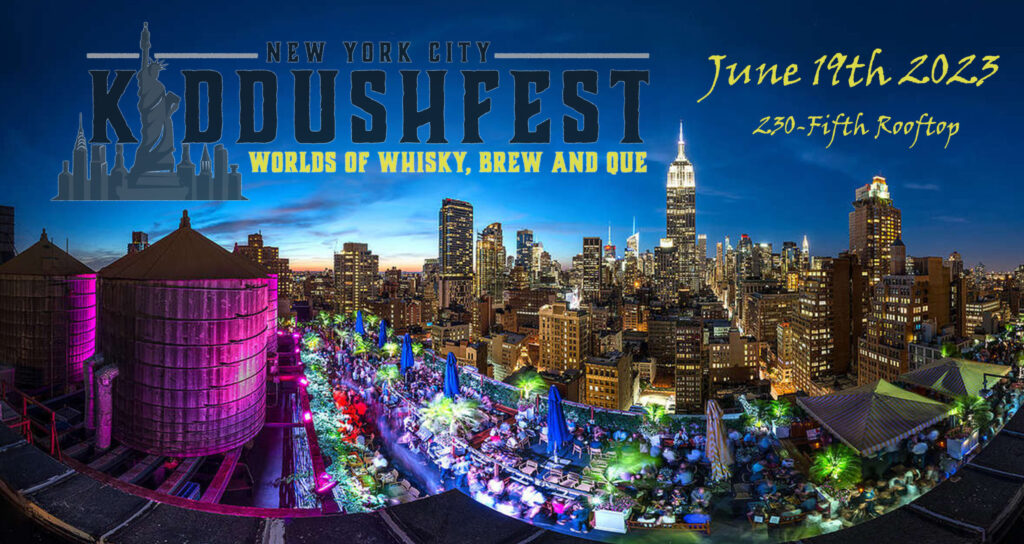 Kiddushfest returns to NYC this Monday, June 19th for the 3rd Annual Kiddushfest!
Located at 230 5th Avenue Rooftop in Manhattan, tickets are now on sale for all portions of this Kosher Whisky Festival including:
4:30pm – Masterclass
5:30pm – VIP Hour offering 2nd Whisky Masterclass
6:30-10:00pm – Unlimited pour on 400+ Whiskies from around the world plus the Ultimate Kiddush Club with gala kiddush provided by The Wandering Que.
---
General Admission $180
General Admin Tickets Doors open at 6:30pm
Includes one Tasting Glass
Unlimited Whisky Pours (Please Drink Responsibly)
Fine Kosher Cuisine by The Wandering Que
---
VIP Admissions $275
Masterclass at 4:30pm
2nd Masterclass at 5:30pm
VIP Doors open at 5:30pm with Food Stations and All Tables Open
Includes Swag Bag – Kiddush Club Survival Kit
Glassware & Wandering Que Charcuterie
1 Hour Hand Selected Passing Menu by Ari White
Getting to get there before everybody else…priceless
---
Use Discount Code "LOVEYOUDAD" this Father's Day for 15% off admission prices during checkout. Click here for Tickets.
A portion of all ticket sales goes to raise funds and awareness for charity partner, Gift of Life.
The event will likewise offer another single cask, barrel-proof festival bottle, and RARE Bottle raffle on their behalf with a goal of raising $50,000 for this life-saving organization.