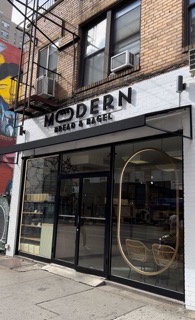 The UWS Gluten Free bakery and cafe, Modern Bread & Bagel, has just launched its second NYC shop, in Chelsea. Modern Bread & Bagel is known for serving GF versions of bagels, grilled cheese, freshly made bread, pastries, and more, where it's difficult to tell that it's different than what it is intended to be with gluten.

The GF store offers bagels, pastries, bread, and a whole GF dinner experience known as Modern @ Night, which we unveiled this past winter.
>>> Click here to view their menu

This location can be found at 139 West 14th St. in New York, NY. Kosher certification for Modern Bread is under IKC. Stay tuned for the about-to-launch LA location as well.