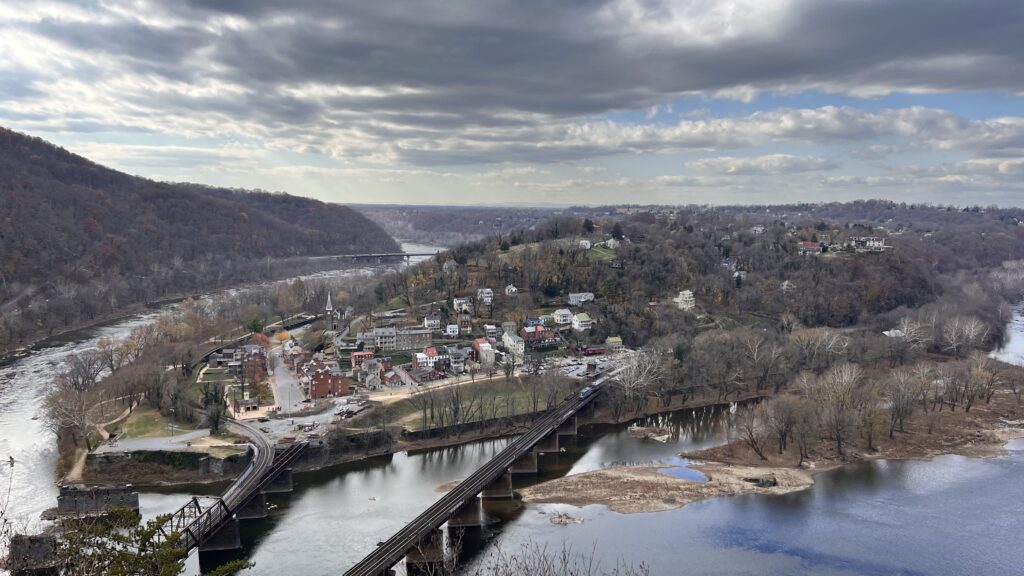 Over Thanksgiving weekend, I took my family to Harpers Ferry, West Virginia to do some sightseeing, hiking, and to spend a quiet Shabbat in the woods on the river. One of the things I enjoy doing when I travel to new areas is to find exciting ways to view nature, get great views, and work up a sweat. Hiking and/or exploring a new city on foot is something I try to do as much as possible.

Often the best way to explore new areas is to rent a home, condo, or cabin in the middle of nowhere OR in the middle of a city. I've mostly been using Airbnb to do this over the last 7 years, although not exclusively. I have, however, found that their platform is the easiest to use and the best way to ensure that the rental you're booking is what it claims it is.
Over the years I have rented Airbnbs for work and for family vacations including in Austin, TX; Tel Aviv, Israel; Seville, Spain, 2 in the middle of nowhere Western Iceland; Hunter, NY; Ithaca, NY; Finger Lakes, NY; Poconos, PA; near Harpers Ferry, WV; and in Norfolk, VA.

Of those rentals, there were a few times when we rented large homes that could fit multiple families, and a number of smaller places meant for just my small family of 4. Overall, we had truly fantastic experiences, with the freedom to come and go as we pleased, no need to deal with hotel staff or other guests, and usually the ability to make our own kosher meals in the Airbnb rental's kitchen.
There was one disaster Airbnb stay, and it was the first rental we had in Iceland, back in November 2019. Never mind that the home was difficult to find, that wasn't the issue. After we arrived and unpacked for the evening (it was a 2-night rental), we started noticing mouse droppings in multiple rooms in the rental. Because it was already late and we were exhausted, we didn't have a choice but to stay for the evening.
However, I got on the phone with Airbnb's support team and what was a crappy situation was turned around. Not only were we completely reimbursed for that stay, but we were also given a credit to book anywhere else in Iceland for the following night. We ended up sleeping in one of the coolest cabins that I'm still raving about 2 years later, located on the foothill of Iceland's most famous mountain, Kirkjufell.
It was idyllic, with views of the stars, Northern Lights, and glaciers from our hot tub, despite it being 20ºF (-6.7ºC) outside. Inside, we had warm meals we prepared ourselves in the cabin's kitchen and enjoyed a true wooden cabin experience. In the morning, we walked across the road to experience and view the half-frozen waterfall in front of Kirkjufell (see image).
If you can find and book this home on the Snaefelsness Peninsula in Iceland, I highly recommend it.
In Seville, we were able to stay smack in the heart of the city, absolving us of the need to rent a car. We were able to walk everywhere and it was great. Similarly in Tel Aviv.

In Ithaca, we rented an apartment last year just across the street from a trailhead into one of the city's hikeable gorges with little waterfalls throughout, which I hiked myself at 7:30 am.

Our recent West Virginia rental was across the street from a scenic river in the middle of the woods. Really nice to be able to disconnect and relax. Our Finger Lakes and Hunter, NY homes were summer vacation spots with friends and their kids. We booked large homes that allowed for each couple to have their privacy and for our kids to bunk together and enjoy each other's company, whilst being within nature and also enjoy the outdoors, summer BBQs, and some football.


Overall, I see Airbnb as a healthy alternative to hotels in most situations, especially when you want something unique or you just need more privacy than a hotel can offer. The major downside to Airbnb versus hotels is that at this time Airbnb doesn't offer any loyalty or points program. In the long term, however, this is still a great platform for travelers who want to have unique or private experiences.
I'm curious to hear about your Airbnb experiences, both the good and the bad.