The award-winning artisanal donut bakery, Dough Doughnuts, has obtained kosher certification for all 5 of its NYC locations, which include 3 in Manhattan, and one in both Brooklyn & Queens.
The doughnut shop focuses mostly on high-end, quality, handmade ingredients, which come through in their doughy brioche-style donuts as well as in their fillings and toppings.
Dough has been recognized by Food & Wine magazine, Business Insider, and the Food Network for their outstanding donuts.
You can find an array of beautiful and delicious donuts on display at any of their locations that may include flavors such as Hibiscus, Cafe Au Lait, Lemon Poppy, Passionfruit, Cinnamon Sugar, Guava & Cream Cheese, and many more. Additionally, they serve all types of coffees, perfect for those who like to dunk their donuts into their coffee. (Scroll down for links to their menus)
For Chanukah / Hanukkah 2021 Dough is releasing a specialty holiday box that will include jelly, sugar cream, chocolate halva, and Nutella flavored sufganiyot style donuts. Most of these donuts are seasonal and will only be available during the 8 days of the holiday.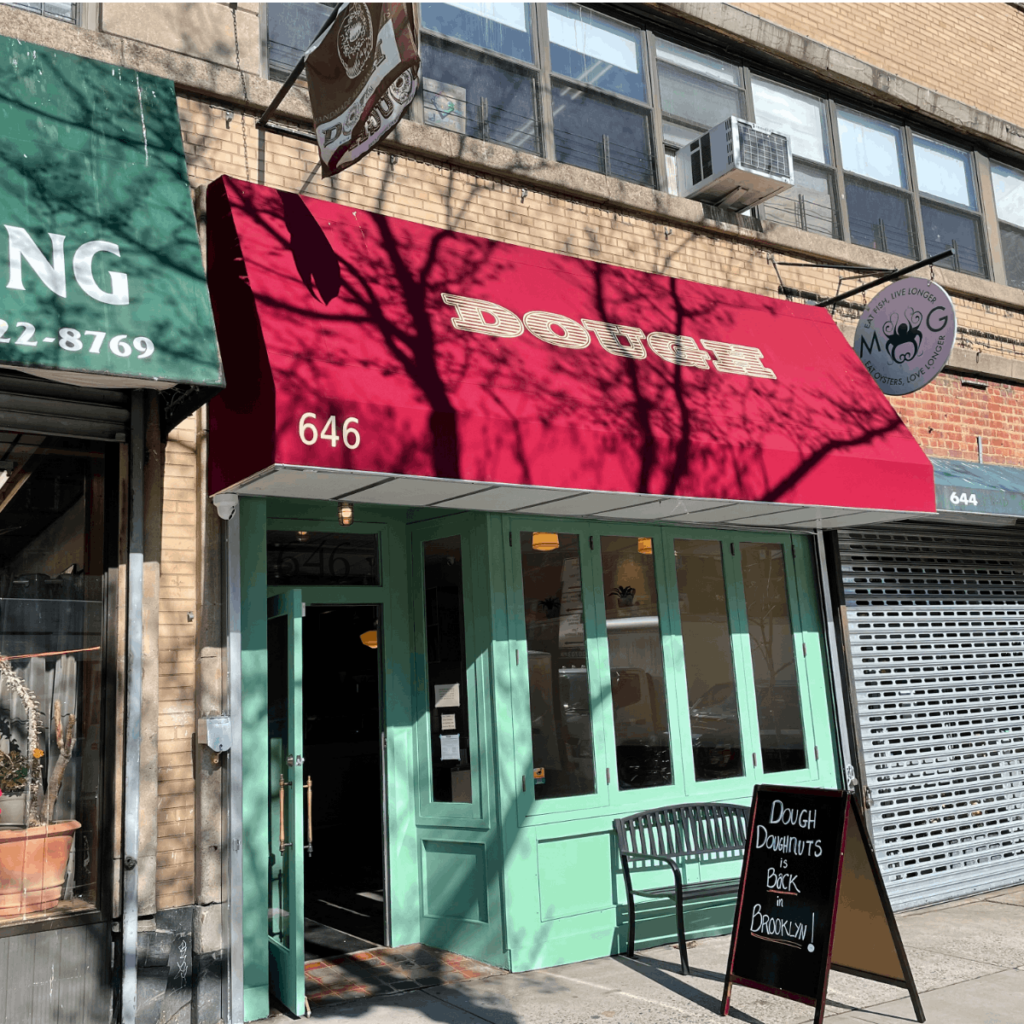 Those that are outside of the NYC area who want some Dough donuts shipped to their house can order directly from their shop on Goldbelly which ships DOUGH's products throughout the U.S.
Dough Doughnuts is certified kosher under IKC supervision. All vegan products are certified kosher parve, and all other products are certified kosher dairy (cholov stam).
>>> Click below for DOUGH's donut menus
>>>>>> Doughnut Menu
>>>>>> Seasonal Doughnut Menu
>>>>>> Vegan/Pareve Doughnut Menu
You can find Dough Doughnuts at these locations below, and potentially more in the near future (hours for these locations differ):
| | | |
| --- | --- | --- |
| Location Name | Address | City/Borough |
| Flatiron | 14 W19th St. | New York |
| Rockefeller Center | 10 Rockefeller Center | New York |
| Urbanspace Vanderbilt | 230 Park Avenue | New York |
| Astoria | 21-70 31st St. | Queens |
| Prospect Heights | 646 Vanderbilt Ave. | Brooklyn |