Just launching this week in Las Vegas, "Kosher Chinglish" is a brand new kosher Cantonese restaurant, a more authentic Chinese restaurant compared to the typical kosher Chinese restaurants we've come to know in the U.S.
Cantonese or Yue cuisine originates from Guangdong Province (SE China around Hong Kong), and it is the most widely served style of Chinese cuisine in the world. … What distinguishes Cantonese food is lightly cooked fresh vegetables and meat, and sweet sauces.

Chinahighlights.com
Kosher diners should note, that next door is "Chinglish" a non-kosher restaurant with a similar theme from the same owners. Make sure to head to the storefront that says "Kosher" overhead.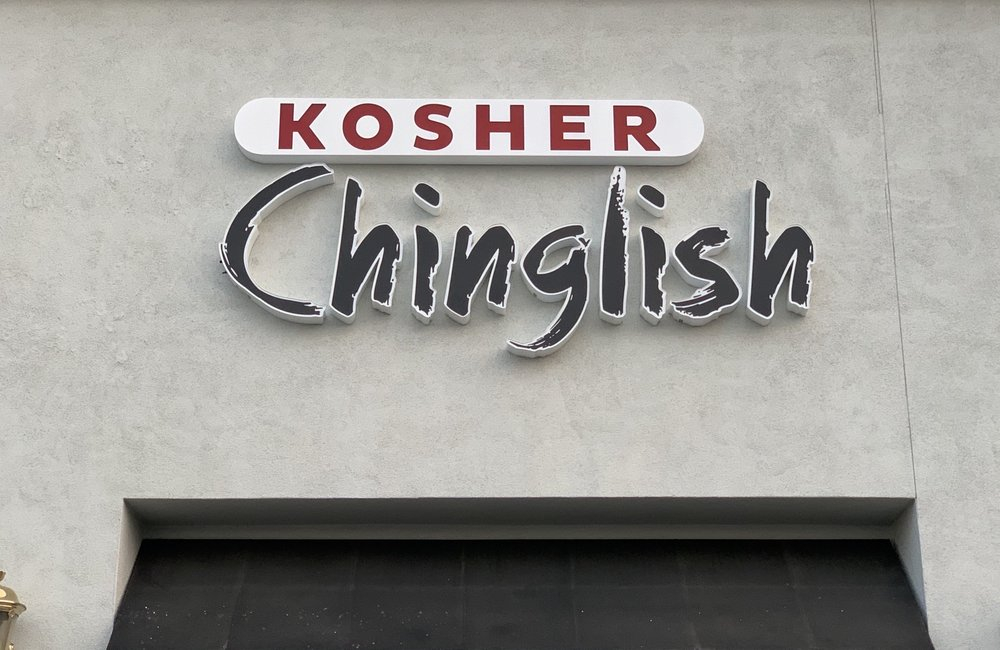 Billing itself as a fast casual restaurant serving authentic Hong Kong cuisine, Kosher Chinglish is a Glatt Kosher eatery that also offers vegetarian, gluten-free, and Keto-friendly options.

The owners, a union of a New York Jew and a Californian Chinese brought together the two cultures to bring true authentic Chinese cuisine to kosher palates. At the helm in the kitchen is Chef Po Fai Lam, who has been preparing and serving top-quality Hong Kong cuisine for over 45 years.  His (non-kosher) restaurants have been popular in Hong Kong, Beijing, and San Francisco.
"When my mom died, my wife Kitty's parents, Chef Po Fai and Anna Lam, came to stay with us.  During the entire shiva (mourning) period, Po Fai and Anna prepared all of their recipes, but converted them to be kosher; resulting in Kosher Chinglish."

Ken Heck, Partner 
The menu at Kosher Chinglish is not filled with items you'd expect from the standard American kosher Chinese restaurant, save for a few familiar dishes.
Appetizers include deep fried Crispy Vegetarian or Chicken Egg Rolls, fresh Poh Poh's Chicken Dumplings, Salt & Pepper Tofu, and more. Wok fried rice or noodles also serves as a fresh take on the Far East cuisine.
For entreés Kosher Chinglish offers Sliced Beef Rib with Green Beans, Scallion Beef Stir Fry, Salt & Pepper Tilapia, Braised Tofu with Shiitake Mushrooms, and a healthy selection of additional items.
Kosher Chinglish is located at 8704 W Charleston Blvd., Ste 103 Las Vegas, NV, about 20-25 min drive from the Vegas Strip. (The restaurant will have a small sukkah for the upcoming chag).
Hours of operation:
Sun – 11:30AM to 3:00PM & 5:30PM to 10:00PM
Mon – Closed
Tue-Thurs – 11:30AM to 3:00PM & 5:30PM to 10:00PM
Fri – 11:30AM – 3:00PM
Sat – Closed
Kosher Chinglish is kosher certified under the Va'ad HaKashrus of Las Vegas, under the supervision of Rabbi Shea Harlig and Rabbi Tzvi Bronstein.