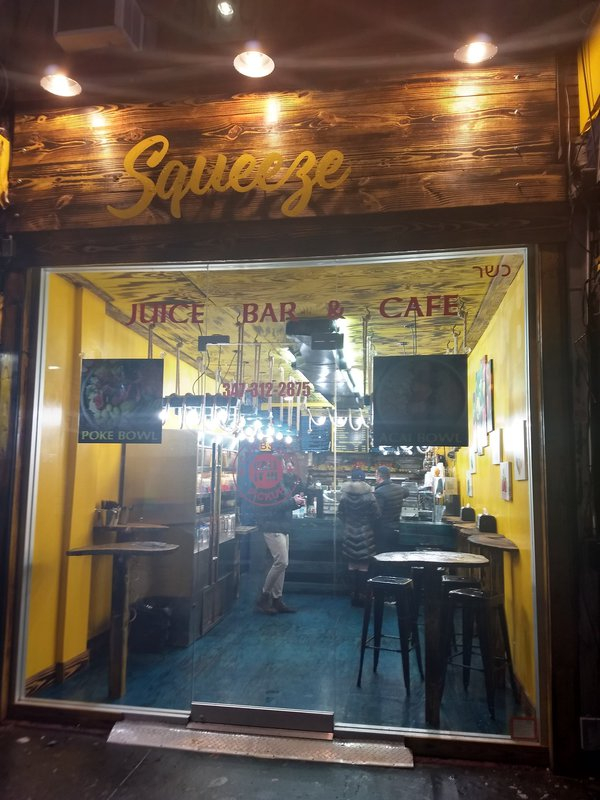 A new kosher juice bar and poke bar recently opened in Brooklyn: Squeeze serving as a parve eatery serving a variety of fresh juices and smoothies, and healthy bowls.
The restaurant offers a variety of poke bowls served with spicy tuna, marinated salmon, mango, edamame, cucumber, zucchini, carrots, sea weed, cabbage, onion, and sesame seeds. Açai bowls are also on the menu.
Fresh juices include the Ginger Bomb (ginger, lemon, apple), Detox (celery, apple, cucumber, spinach, kale, parsley), Energy (ginger, beets, carrots, apple), Morning Boost (mint, spinach, pineapple, collards), Pear Power (parsley, ginger, celery, collards, cucumber, pears), and a few more.
Smoothies offered are the Green Power (apples, spinach, pineapple, mint, bananas), Green Butter (almond butter, spinach, kale, almond milk, banana, honey), Squeezed (raw young Thai coco water, kale, flax seeds, spinach, banana), Very Fruity (blueberries, strawberries, orange juice, banana), Squeeze Signature (double shot espresso, almond butter, maca powder, medjool dates, cacao nibs, almond milk, banana), and others.
Hours of operation are Sunday-Thursday 6am-8pm.
Squeeze is certified by NKS and is located at 1690 E 16th St., Brooklyn, NY, right next to the Kings Hwy Q subway station by Quentin Rd.