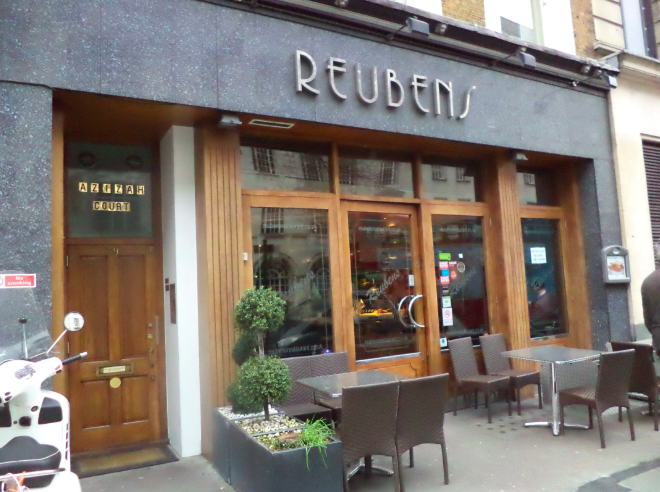 Review by Debbie Kandel of DebbestFood.com
For most Americans, the name Reuben is synonymous with an American grilled sandwich made of corned beef, Swiss cheese, sauerkraut, and Russian dressing, grilled between slices of rye bread. Kosher Jews adapted the sandwich and eat it without the cheese. Reubens Restaurant & Deli in London is famous for their salt beef (English for corned beef) sandwich, but I recently discovered that it is so much more.
Reubens is the longest standing kosher restaurant in London and the only kosher restaurant in central London, just 10 minutes' walk from the main shopping area of Oxford Street. I had been to Reubens many times over the years but had always eaten at the upstairs deli and didn't know what delights awaited me in the restaurant downstairs.
My father was my dining companion and we started our meal with a selection of traditional starters (chicken soup, chopped liver, and egg & onion) which were all very enjoyable and more to his taste than mine. The selection of sweet, sour and dill pickled cucumbers were a big hit for me, especially the slightly spicy ones. My favorite starter was the Chicken Avocado made with curried mayonnaise. The dish was light and refreshing, yet full of flavor. The Deep Fried Mushrooms were lovely and crispy on the outside with a soft inside. Luckily for us, the soup of the day was a rich lentil soup, which we both agreed was delicious.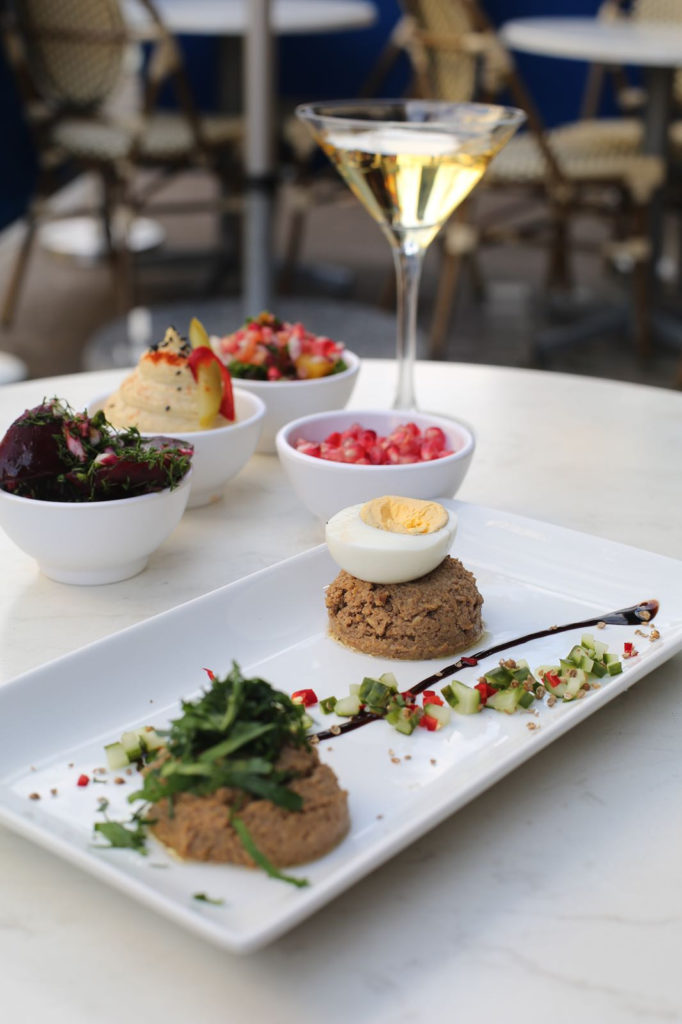 For mains, we also tried to mix up the traditional and more modern dishes. The Chicken Shawarma was possibly the best shawarma I have had in my life. It is made daily and was a perfect balance of crispy, without drying out the meat. The classic Salt Beef was as good as it always was, but for me, the shining star was the Reubens Burger, which was a succulent steak burger, topped with salt beef, a winning combination. Our final main was a modern take on the classic French Beef Wellington. The dish is made individually to order and the combination of steak with chopped liver, mushrooms and topped with pastry and gravy was delicious.
We somehow made room for dessert; both the Apple Strudel and Chocolate Fondant were made by Chef Tam himself and were beautifully presented. Both were very impressive pareve desserts.
All in all, we thoroughly enjoyed our meal at Reubens and whether you are craving a quick burger during a shopping spree or looking for a relaxing meal at the end of a busy day, Reubens is the place for you.
Reubens Restaurant & Deli is located at 79 Baker Street in London.