For Winter Break a few years back, we decided to buck tradition and check out a totally different part of the country. After doing some research we chose Savannah, Georgia, and Charleston, South Carolina.  We flew into Charleston International and then took a shuttle to pick up a rental car. A short time later we were on the road to Savannah and 2 hours later we arrived. We spent 2 nights and 2 days in Savannah, it's a beautiful city with lots of charm, that's definitely worth visiting.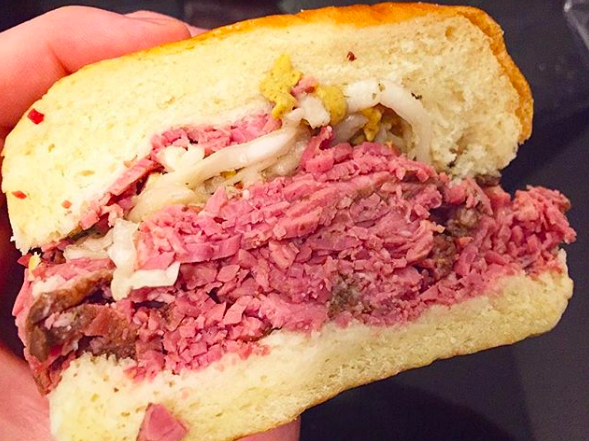 Kosher Info:
The kosher options in Savannah are limited. Our first stop was the BB Jacob Synagogue where caterer Murray Gottlieb operates out of. We picked up a delicious meal that we enjoyed in beautiful Forsyth park. Gottlieb offers the only kosher prepared meals in town. You can check out his website or call  (912) 354-7721  to make an advanced order and see the full menu.
While there are no other kosher restaurants where you can get a full meal, there are several snack options.
Cinnamon Bear offers kosher Ice Cream and is located at 205 River Street.
Lovin Spoons is a self-serve frozen yogurt bar with 12 rotating flavors, 49 topping and a sugar free option. Lovin Spoons has 2 locations in Savannah.
Krispy Kreme has two kosher locations in the city one at 2649 Skidway Road and 11506 Abercorn street.
Additionally you can call ahead to Buckingham South [5450 Abercorn  (913)355-5550] an independent and assisted living facility that is fully Glatt Kosher to obtain meals there.
All kosher certification is under Reb Avigdor Slatus, Chief Rabbi of BB Jacob.
Travel Info
A must see is Forsyth Park located in the heart of Savannah. Full of Tall majestic trees covered in Spanish moss, and home to the Forsyth fountain, this park is a tranquil oasis surrounded by stately Victorian homes.
A hop on hop off trolley tour is a great way to explore the city and see the gorgeous squares that are scattered across the city.
Must see neighborhoods include the Historic district and Victorian district. Another must see destination is River Street. Running along the Savannah River, River Street is home to a variety of antique shops, authentic old fashioned candy stores, boutiques, and art galleries. Stroll along and browse while taking in the view from the harbor.
Jewish Info
The first Jews to arrive in Savannah, Georgia was a ship of Sephardic Jews, which arrived in 1733. Soon after they established Congregation Mickve Israel, one of the oldest Synagogues in America. Mickve Israel has a wonderful museum on site full of fabulous artifacts that chart the history of Jews in the south.
Savannah has had many Jewish politicians and influential leaders, as well as many Jewish owned businesses. If you are interested in learning more about Savannah's Jewish History, you can check out "Jewish Savannah" which provides jewish themed tours that highlight the city's Jewish influence.
If you have time, make the 2 hour drive north to Charleston, SC. Lots of Jewish history there as well.