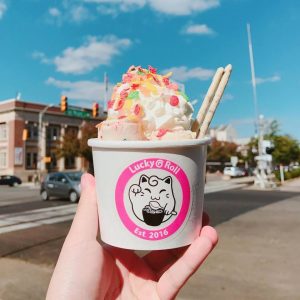 A handcrafted ice creamery in Englewood has added limited kosher certification. Lucky Rolls serves Thai rolled ice cream, smoothies, drinks, and tea, but only the ice cream rolls are certified kosher.
Flavors of ice cream rolls range from Fruity Pebbles, Cap'n Crunch with Berry Crunch, Reese's Puffs with Nutter Butters, Oreo O's with Oreos, Golden Grahams with strawberries, and Cocoa cereal with chocolate drizzle.
Hours of operation are Sunday-Thursday 1pm-9:30pm and Friday-Saturday 1pm-10:30pm.
Lucky Rolls is under limited certification by National Kosher, only the ice cream rolls are certified by the agency and many of the toppings are certified by their manufacturer.