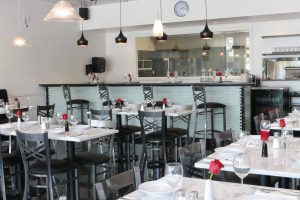 Meat and Eat, a brand new Glatt kosher Mediterranean restaurant, has recently opened in the North Miami area.
Menu items at Meat and Eat include hummus, charcuterie platter, shakshuka, mechouia, and babaganoush. Israeli, egg, nicoise, ceasar, veggie, and salmon salads are available.
Meat from the grill includes chicken breast, beef kefta skewer, pargit skewers, 15 oz rib steak, and a few others. There is also a selection of burgers, rotisserie chicken, hot dogs, pitas and laffas, fish, and more to order.
Meat and Eat also offers bagels with either pareve or fleishig toppings. On the bagel menu is the Miami (smoked salmon, mayo, avocado, lemon), San Diego (tuna, lettuce, tomato, cucumber, capers, olive oil, harissa), Texas (chicken schnitzel, mayo, BBQ sauce, mustard, tomato, onion, dill pickles), Orlando (charcuterie, mayo, tomato, dill pickles, olive oil, basil), and the Key West (spicy chicken, tomato, mayo, onion, mustard, dill pickles).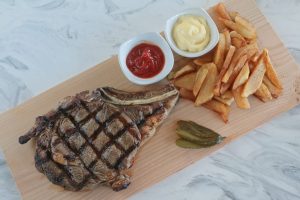 Here's the full Meat and Eat menu
Hours of operation are Sunday-Thursday from 10am-11pm and Friday 11am-3:30pm.
Meat and Eat is kosjer certified by Rabbi Golowinski.