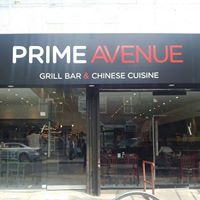 Prime Avenue has opened up earlier this fall in lieu of (and combination of) Prime Sandwich and Prime Wok in Crown Heights combining Chinese food and specialty grilled dishes. The restaurant is serving up everything from burgers, schnitzel, and falafel to lo meins and egg rolls.
Burger options include portobello, pastrami, and sunny side up. Schnitzel flavors range from New York, Mexican, and Greek.
All the regular Chinese dishes are on the menu as well. General Tso, sesame, sweet and sour chicken, beef with broccoli, spring rolls, and dim sum and more can be ordered.
Hours of operation are Sunday-Thursday 11am-1am, Friday 11am-3pm, and Saturday 9pm-1am.
Prime Avenue is certified by CHK.