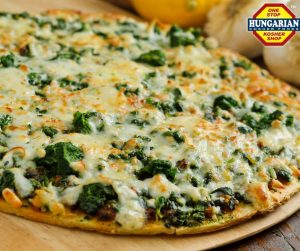 Skokie has a new pizza joint! HKC Cafe (aka Hungarian Kosher Cafe) serves paninis, nachos, and pastas, in addition to a variety of pizzas.
The cafe will have a full salad bar and a choice of fresh soups.
Appetizers include onion rings, nachos with cheese sauce, fried jalapenos, fried pickles, giant pretzels, and more.
Hours of operation are Sunday-Thursday 11am-9pm, Friday 11am-2pm and Saturday 1 hour after Shabbat until 12:30am.
Hungarian Kosher Cafe (HKC) is certified by the CRC. They are located right next door to Hungarian Kosher Foods.