A nutritionist owned and operated restaurant in Rye, NY, The Puregeanic Cafe offers healthy kosher food with many vegan, Gluten Free (GF), and Dairy Free options (DF).
The eatery is open for breakfast, lunch, and dinner, with lots of to-go options.
Breakfast items include a breakfast cookie (organic oats, coconut oil, maple syrup, raisin), muffins and bagels served with almond butter or cream cheese and fruit, wraps, pancakes, avocado on toast, and more.
A variety of soups are available; butternut squash, carrot ginger, cauliflower, gazpacho, french lentil, mixed vegetable, red lentil, tomato basil, and zucchini.
Burgers, sandwiches, and wraps are gluten free. Try the falafel, tofu guacamole, quinoa burger, mushroom meatballs, and other varieties.
"Special" dishes include pasta alfredo (GF/DF), penne bolognese (GF/MF), mac n' cheeze (GF/DF), buffalo cauliflower, açai bowls, and more.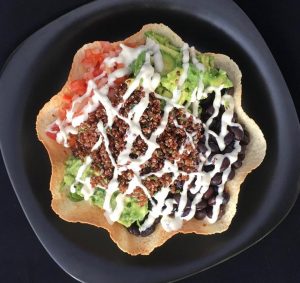 There are also tons of different juices, smoothies, nut milks, lemonades, and teas.
Hours of operation are Monday-Saturday 7am-8pm, and Sunday 9am-6pm.
The Pureganic Cafe is certified under Rabbi Andre Malek of RAM Kosher.