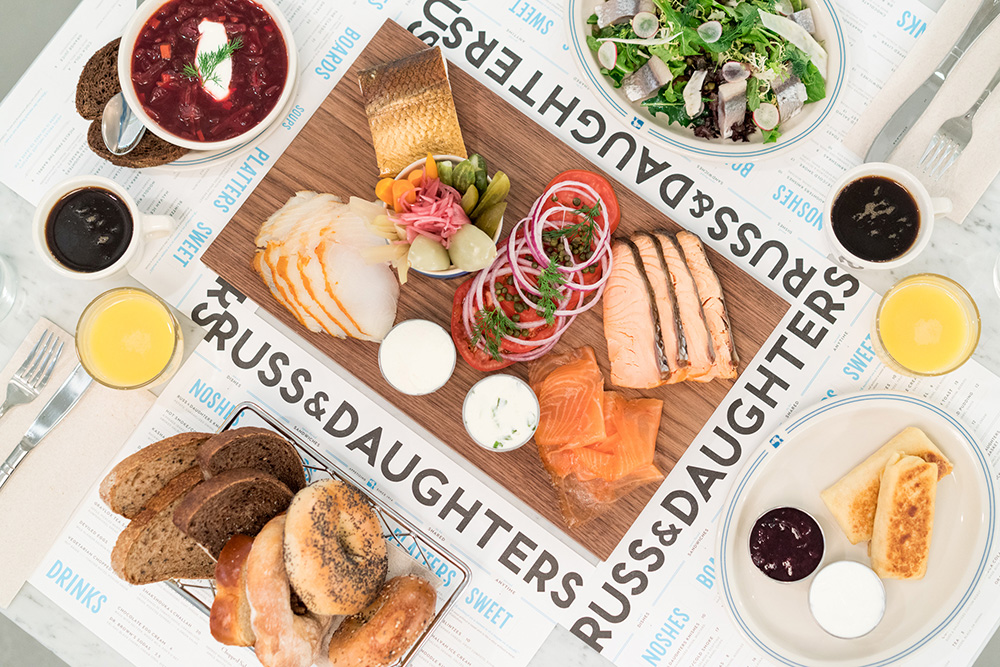 Starting on Shabbat January 28th, Russ & Daughters will be offering a pre-paid Shabbat day meal at its kosher cafe inside The Jewish Museum on the Upper East Side of Manhattan.
After more than a century on the Lower East Side, Russ & Daughters opened a kosher appetizing restaurant at the Jewish Museum, serving classic appetizing foods including smoked fish, herring, bagels, and traditional baked goods.
Saturday brunch is offered by reservation only. Diners can book the brunch meal for any available time between 10am and 2:30pm Shabbat day. One set menu is offered and substitutions or changes to the menu are not possible. Reservations can only be made through their Resy page and will only be accepted until Friday at 3:00PM.
Since this is a pre-paid offering, no transactions will occur during Shabbat. The cost is $50 per person, gratuity included, plus tax. An additional $26 per person can be added for the additional beverage menu which includes 2 drinks per person: choice of Bloody Mary, Mimosa, Wine, Beer.
The set menu is as follows:
SET MENU, SERVED FAMILY-STYLE
For kiddush: Russ & Daughters Challah and wine or grape juice
DEVILED EGGS: topped with Wild Alaskan Salmon Roe, served with butter-baked matzo
APPETIZING PLATTER: Gaspe Nova smoked salmon, Sable, Whitefish & Baked Salmon Salad, Pickled Herring with Cream Sauce & Pickled Onion. Served with plain and scallion cream cheese, tomatoes, onions, and capers.
RUSS & DAUGHTERS BREAD BASKET: an assortment of our Bagels, Bialys, Shissel Rye Bread, Pumpernickel Bread, and Challah
PICKLES FROM THE BARREL
MIXED GREEN SALAD: with fennel, dill, capers, citrus dressing
DESSERT PLATE: includes Halvah Ice Cream, Black & White Cookies, and fresh fruit
A glass of Fresh Squeezed Orange Juice, Coke, or Diet Coke
Coffee or Tea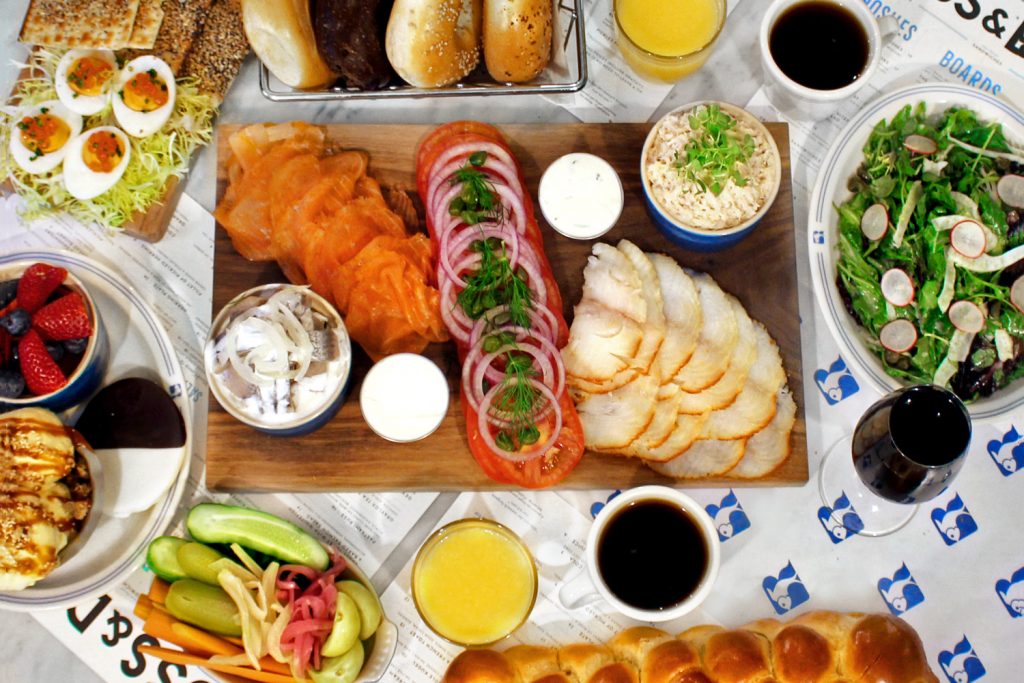 With advance notice Russ & Daughters is able to accommodate vegetarian, vegan, gluten-free, food allergies and Chalav Yisroel. 
Reservations can be made for 1 to 8 people, with 8 being the max at a given table. Parties larger than 8 will need 2 reservations and will likely not be seated together.
Full details or to make a reservation, click here.
Kosher supervision by Rabbi Aaron D. Mehlman, National Kosher Supervision.