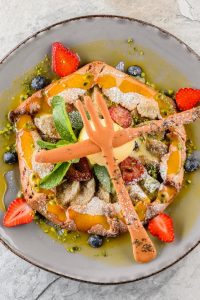 Newly opened Jaffa Restaurant in the Russian capital serves Israeli and Middle Eastern cuisine to Moscow's residents and visitors. The restaurant's bohemian menu and decor make it a fun and delicious stop for diners in the area.
They serve meat and fish dishes. Menu items include lamb kebabs, latkes with smoked salmon cream, eggplant with lamb, or chicken with potatoes. Fish options range from grilled sea bass and cod meatballs to sushi.
Customers can also purchase the homemade jams to go.
Hours of operations are 10am-12am Sunday-Thursday.
Jaffa Restaurant is certified by the Chief Rabbinate of Russia.