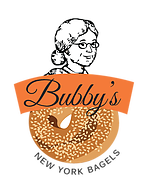 Toronto has added a new restaurant to its kosher scene. Bubby's Bagels has opened, but is still currently training staff and finalizing its menu and other logistics, so expect the hours and menu to be limited until they are fully operational in a few weeks.
Their current menu has a variety of New York style bagels: whole wheat, poppy, sesame, garlic, everything, whole wheat, plain, salt, onion, egg, jalapeno, black Russian, cinnamon raisin, and multi-grain. Different omelettes, salad spreads, and mac and cheese are available as well.
Bubby's Bagels is kosher certified by the COR.