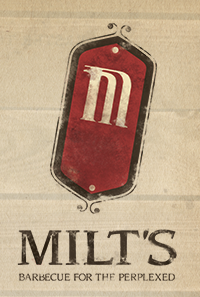 Less than 2 months after their first kosher BBQ pop-up in NYC, Chicago's Milt's BBQ for the Perplexed is back in NYC this week for round 2. The one-day pop-up will be this Thursday, 3/31, located at Pitopia on W37th st. & Broadway.
Like February's pop-up, one can pre-order their meals to go or walk up and order in person.
The menu consists of:
Corn Bread $3.95
Milt's Fries $3.95
Chili Fries $7.95
Brisket Chili $8.95
Buffalo Wings $6.95
Romanian Hot Dog w sauteed onions $7.95
Smoked Chicken Sandwich $15.95
Brisket Sandwich $16.95
Rib Sandwich $17.95
Orders must be placed by 5pm on March 30th – Click here to pre-order
Orders will be delivered using Uber Rush. There will be a $5 charge on each delivery in midtown. Between 30th st to 50th st, and between Madison Ave to 9th Ave ($15 to other areas in Manhattan). Free pick up is also available.
The kosher supervision for the pop-up runs under the kashrut of the hosting restaurant, the OU.