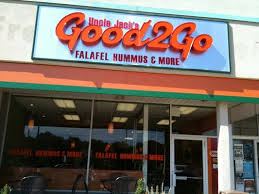 Uncle Jack's Good 2 Go has been serving delicious falafel and hummus since 2010, and as of February 1, 2016 it has officially become kosher.
Customers can order falafel pitas or bowls with hummus, tahini, and customer's choice of salads. Chicken and tuna pitas are also available. The menu also features jalapeno falafel for those who like a spicy kick.
Hours of operation for Mondays, Wednesdays, and Thursdays are 11am-6pm, Tuesdays from 11am-8pm, Fridays from 11am-3pm, and Sundays from 12pm-6pm.
Uncle Jack's Good 2 Go is now certified kosher by the Jersey Shore Orthodox Rabbinate. (Their website currently states it is not kosher, but that is outdated).