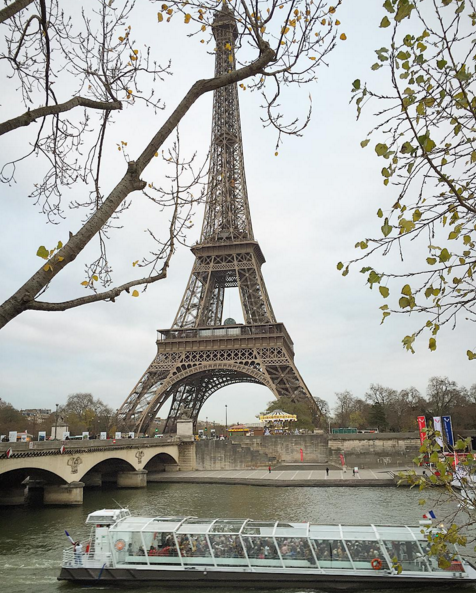 Last summer I wrote an article about why you should skip your trip to Paris and head to Tel Aviv instead. This was before the multiple terrorist attacks this year. While I will always support travel to Israel over anywhere else, I'm going to backtrack on my statements from last year.
I'm now home from a trip to Europe for a week now (more on that in future posts) and I've had time to reflect on my 6 days in Paris (my cousin got married). This was my first trip to Paris since I was a baby, so basically my first real experience there. Nearly everything I've been fed about Paris has been exaggerated or not true. There are likely numerous reasons and biases that go into why this is the case, but I won't go into that. Rather, I want to share with you my experience and dispel some of those myths about Paris.
Paris is not safe (for Jews). This is partially true and not. Despite the many Parisian and French Jews making Aliyah, Paris is still home to the most Jews in Europe. Paris is home to the most kosher restaurants, synagogues, etc. in Europe.While I was warned (rather scared) into not wearing a kippah in public anywhere in the city (which I didn't do), many Parisians do, unabashedly. Many don't and use caution the same way I did, but it's not as dire a picture as was painted in my head. Having said that, there are definitely neighborhoods I wouldn't go near (wearing a kippah or not) and surely there is always the threat of more terrorist activity.

Shuls and restaurants are now heavily guarded, as they should be, especially after this year's attacks. But the major shops along Champs-Elysées as well as the malls all had armed guards checking people's coats and bags. I felt like I was in Israel: safe. This will likely be SOP (Standard Operating Procedure) for some time now in Paris, and likely many other European metropolises. I wouldn't be surprised if this was SOP in NYC within the next 5-10 years. It should be.

Parisians are not friendly. This is an American tourist notion. I did not find this to be the case. Parisians are proud & patriotic (no less than we are patriotic as Americans, Canadians, Israelis, etc.). For the French, that manifests itself as also being proud of their language. Many NYers are seen as unfriendly to foreign tourists who do not speak English. So too this is seen to be the case for American tourists who refuse to use a word of French.

My advice for all travelers to France:

learn these 3 words in French

(the words link to how to pronounce them):

Thank You – Mercí
Sorry – Pardon
Please – S'il Vous Plaît

Learn these words and how to pronounce them. These are basically the only words I came in knowing and nearly everyone was helpful and friendly. I highly recommend doing this before any international trip. It works wonders when you show that you care a little.

Parisians don't speak English. While I don't have stats on the number of people in the city who speak English, my guess is more of them do, proportionally, than New Yorkers speak French. At most places where tourists would go: hotels, restaurants, shops, etc. there are people who have some English knowledge to assist you.However, there were a few situations where I was caught in where there was no English spoken. Two of them occurred at kosher establishments, but thankfully all both spoke Hebrew. Problem solved.Additionally, one of my Parisian Instagram followers reached out and ended up showing us around the city for a day. Her English was learned in elementary school, in Paris, which was not an elective course.
Paris has amazing (kosher) food. This is largely true. At nearly every restaurant & bakery the food was both beautifully prepared and (usually) quite good. However, some of the exaggerations that I've heard is that Paris has "the best" kosher food on the planet. I'm sure it's possible, and despite the great #kosherfoodie experiences I had on my trip I didn't feel that the best of the best in Paris was any better than the best of the best in New York or Israel.Where there is a difference, and here I will give Paris some credit, the experience at every restaurant & bakery was amazing. They're (basically) all clean, bright, and inviting. Parisians businesses sure do know how to display their wares, whether it be food, clothing, or furniture. The restaurateurs all were very friendly and we were treated very well, even with loud American kids in tow, at these establishments.Additionally, I will say that there is an amazing diversity with the types of cuisines offered at Parisian kosher restaurants, even more so than what we have in NYC, especially considering that there are significantly more kosher establishments in NYC than Paris.

We loved hitting Darjeeling (kosher Indian fleishig cuisine, known to some as one of the best kosher restaurants in the world), Bahn Hai (kosher Thai fleishig cuisine, probably our favorite spot of the trip for which nothing comparable exists in NYC), and L'As du Fallafel (kosher falafel & Middle Eastern restaurant in Le Marais, packed at all hours of the day, known to many as the best falafel in the world).

Paris is dirty. Having just come from Vienna & Budapest before it perhaps Paris is dirty in comparison, but compared to New York, LA, Tel Aviv, Jerusalem, and other cities of its size, it's very clean. Buildings that are at least 1-200 years old look pristine. This is just false.
Overall, we had a great time meandering the streets of Paris, tasting all the kosher restaurants and bakeries, and soaking in the views & cultural differences I know as a New Yorker. I definitely recommend going.
Click here to check out my feed of Instagram pics from Kosher Paris