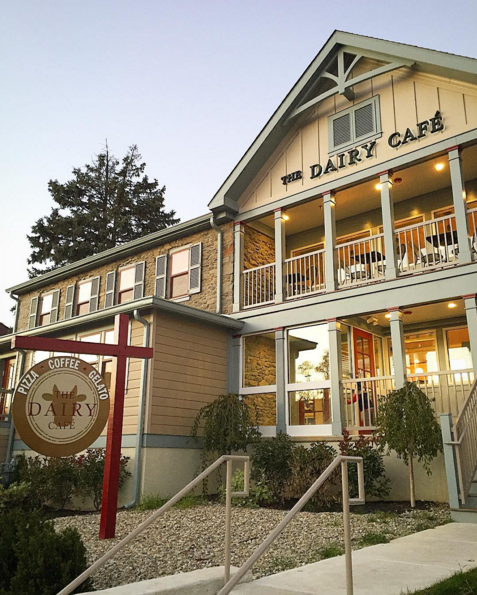 The Dairy Café opened earlier this year in Bala Cynwyd, PA, right outside of Philadelphia in the area's largest Orthodox community. Managed by the same owners as C&R Kitchen (formerly Citron & Rose) across the street, The Dairy Cafe brings a modern dairy restaurant to the area that has options for everyone.
The first things I noticed about the cafe were its size and beauty. The restaurant wowed me when I walked in, being bright, clean, and well designed. The physical space is huge, with tons of nooks and crannies for people to sit in groups of 2—10 easily. The upstairs seating area also boasts a viewing area for film screenings.
The beautiful aesthetic of The Dairy Cafe was not something I was expecting.
Onto the food…
The restaurant has a mix of dairy and pareve options ranging from pizza, pasta, and soups, to fish, salads, and desserts. Many of the restaurant's offerings are pre-made and showcased beautifully in display cases and fridges. Many of these items are "grab and go" so you can just pick them from the fridge and be on your way.
[
Click here for their full menus: BREAKFAST  |  SUNDAY BRUNCH  |  LUNCH  |  DINNER
]
Their array of different pizzas on display was impressive, but none seemed fresh out of the oven. For custom pies (6 slice pies, not the standard 8), fresh pies are made to order.
I opted to try something different. I went for the oddest item on the menu, the Cavatappi pasta which was topped with roasted mushrooms, kale, and poached egg. It was a tasty and understated dish that I enjoyed. Other items order by my family included the Cream of Cauliflower soup which was delicious, one of the standard prepackaged salads which they gladly tossed for us, and my kids tried the Mac & Cheese which is made with real cheddar and is oh so creamy and tasty.
We topped off the meal with desserts from their display case, which was very hard to choose from. We netted out with the Passionfruit Tart which was an explosion of flavor as soon as you bit into it, and the Lemon Bar which was baked perfectly.
Something I was eyeing and didn't get to try was their homemade gelato, not something easy to find kosher, even today. They sell this by the scoop as well as pre-packaged to take home.
A few things to note about The Dairy Cafe:
the restaurant does not have waiters, one orders first and is handed a buzzer letting you know when your food is ready
due to the lack of waiters, the quaint restaurant has set up neat stations for you to bus your own tables – I honestly believe that more kosher restaurants should be doing this, not enough do
Kosher Supervision provided by the Community Kashrus of Greater Philadelphia (The Keystone K). While many of the restaurant's dishes are pareve, the dairy ones are Cholov Yisroel. Ask for which items are Pas Yisroel.