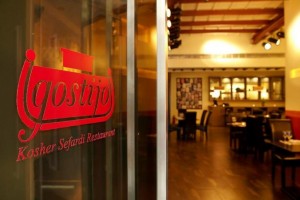 Submitted by Thalia & David Baumgarten
There is one Kosher restaurant in Athens, Gostijo, located in the Chabad center of Athens. The food is Sephardic-themed and includes a variety of meat dishes including a few Greek specialties. Not every item is available every day, but it's more than a falafel and schnitzel place. We enjoyed the food we had but were a little disappointed that many of the Greek specialties were not available.
There is also a small market attached to the restaurant with deli meat, frozen meat, cheeses, wines, and a selection of other kosher and Israeli products.
Chabad of Athens also posts a kosher product list online. The Athens Central Market has fruits and vegetables across the street from the main market building. We also found the local bread (Choriatiko/Χωριάτικο), which is on the kosher list, at bakeries – it's soft and very tasty.
Jewish Athens
Things to Do
Athens is worth 2-3 days of your time. At the top of the list of things to do are the Acropolis and Acropolis Museum. Athens is an inexpensive city and you can get a combo ticket to the Acropolis and other sites for 12€; the Acropolis Museum is separate and costs 5€.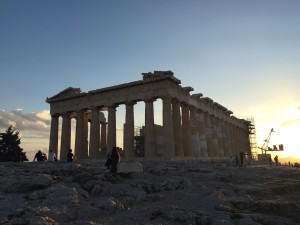 Other sites like the Agora and Roman Forum are also worth seeing and are included with the Acropolis combo ticket. There are interesting shops North and East of the Acropolis and it's worth getting out of the city center to the east for a different vibe and interesting shopping.