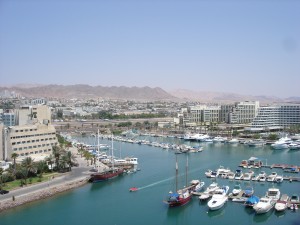 For those who have never been to Eilat, Eilat is the most southern city in the state of Israel. It borders both Jordan & Egypt. Eilat is known as Israel's vacation spot with some of the most exclusive hotels in the country. It's known for its hotels, beautiful beaches, unique coral reefs, water sports, restaurants and more.
Some tips about the city of Eilat:
It's very hot! Take water with you everywhere you go.
Everything in Eilat has no V.A.T. so you can enjoy purchasing items there for a cheaper price.
Moving around the city because of the heat may be difficult, but the taxi's there are very cheap and are a comfortable way to get around town.
Finding a shul in the hotel district may be difficult, but there is a shul in the King Solomon Hotel with daily minyans. Check out davening times so you don't need to drive into the local neighborhoods looking for a minyan.
Because the city is active 24/7 you might have a hard time finding places to grab a kosher bite. So when traveling to Eilat, here is a list of some of the best kosher restaurants in the city.
Entrecote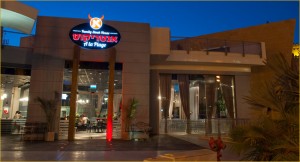 This restaurant opened in 2006 in the oldest neighborhood of the city and is completely off the tourist path. In Entrecote, the steak is offered to you by weight, and grilled to perfection. Served with a side of home fries, the steak is accompanied with a bowl of au jus which takes the steak to whole new level. The steakhouse is child friendly as well, so bringing your kids is not an issue. Entrecote is a place where you get a great meal and get to enjoy dining with the locals as well.
Kosher under the supervision of the Rabbinate of Eilat.
Chicago Grill Bar
Inside the Queen of Sheba Hotel at another meat restaurant called Chicago Grill Bar. This restaurant is a hidden gem and relatively unknown. Chicago Grill Bar offers a variety of grilled meats and they are good: whether it's the foie gras steak, or the Hilton hamburger, everything is seasoned perfectly and beautifully executed. Another high point are their desserts. They take parve desserts and make it in a way that you wouldn't even know they're parve. A great place to try while taking your vacation to another level.
Kosher under the supervision of the Rabbinate of Eilat.
Pizza and Potato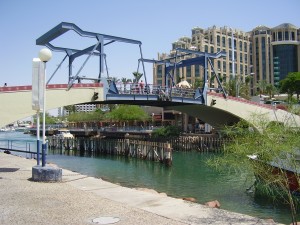 Walking down the boardwalk on the Red Sea is one of the highlights when traveling to Eilat. It's a long boardwalk, and you might get peckish during your long stroll. So what does one do if they crave something light, like pizza or a salad?
I found this really great pizza joint called Pizza and Potato, located under the bridge that's separates to north beach and the south beach of Eilat. Pizza and Potato is pizza gem in a city full of culinary delights. Their pizza has a thin crust with a great crunch, the sauce to cheese ratio is perfect, and the price fits as well. It is very hard to find good pizza, let alone great pizza anywhere in Israel, so I'm happy to have stumbled upon this out-of-the-way pizza joint under the bridge you wouldn't even know existed.
Kosher Mehadrin under the supervision of the Rabbinate of Eilat.
Café Café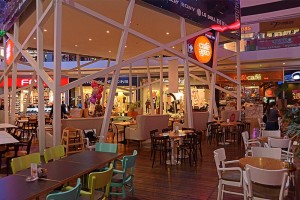 Don't eat Rabbanut? You can always go the Café Cafe located in the Ice mall. The Ice mall has an ice skating rink in the center and is a fully stocked mall where you can shop without V.A.T.  Café Café is a dairy restaurant – part of a larger chain in many different locations around the country. The food is standard coffee shop food: breakfasts, pasta, salads sandwiches and more. There is another Mehadrin branch in the other mall called Mall Hayam as well.
Kosher under the supervision of the Badatz Beit Yosef.
Achla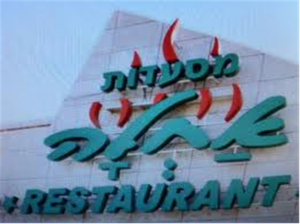 Achla restaurant is the prototype of an Israeli steakhouse in all of it's forms. Starting off your meal with a plethora of salads with free refills, fresh pita bread and a large variety of grilled meats on skewers. Most of the salads are made in house and have the quintessential Middle Eastern flavors. Known for great service, Achla is a medium priced restaurant that will fill your meaty needs at any time of the day.
Kosher under the supervision of the Rabbinate of Eilat.
Ranch House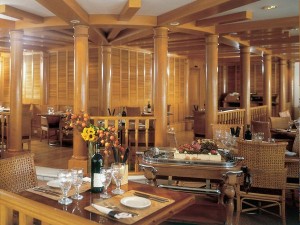 I would like to call out the Ranch House restaurant, that is very similar to Chicago Bar and Grill. The Ranch House specializes in grilled meats and made-from-scratch side dishes. Unbelievable quality of meats and unbelievable service as well.
Kosher under the supervision of the Rabbinate of Eilat.