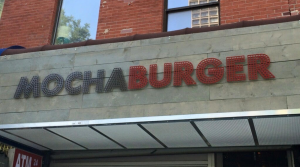 Much awaited Mocha Burger, the only kosher restaurant in the NOHO area (for now), opens Tuesday, June 16th @ 11am. Featuring a hip downtown vibe, MB will be serving signature burgers, steaks, salads, chicken, fish and a variety of apps. Read more here.
Reservations are recommended for this opening week.
Here is their MENU.
Kosher certification is provided by the OU, with meat being chassidishe schechita.