Chicago's newly famous kosher BBQ joint, Milt's, is sending its food truck south to St. Louis this weekend, serving boxed meals that serve 4 people (per box) at $60/box.
The truck will open to pick up orders this Friday, March 13th @ Nusach H'Ari from 12-2pm and on Sunday, March 15th @ the Young Israel in U. City from 12-3pm.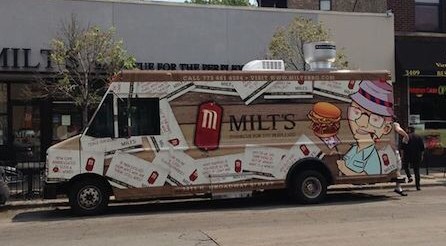 There are 2 boxes on the menu:
Friday Menu —
Brisket Chili – 1 qt.
Smoked Chicken Breast – 2lbs.
Roasted Potatoes – small
Green Beans – small
Rolls & sauce
Chocolate chip cookies – 4 cookies
Sunday Menu —
Smoked Brisket – 1lb.
Roasted Chicken Quarters – 4 pieces
Baked Beans – 1 pint
Corn Bread – 4 pieces
Rolls & sauce
Brownies – 4 pieces
Consumers are encouraged to email your orders to [email protected] or call 314-503-2792.
Follow @MiltsBBQTruck on Twitter for further details.