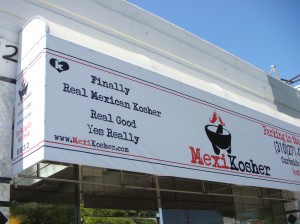 Mexikosher's owner & chef, Katsuji Tanabe (of Chopped & Top Chef fame), will be bringing a taste of his Los Angeles kosher Mexican restaurant to NYC for one night only, this upcoming Tuesday, March 10th starting at 6pm 2pm (although we advise everyone to get there early and/or wear warm clothing and prepare to wait outside). The kosher pop-up will be taking over the original Pitopia location on W37th St off of Broadway.
Mexikosher is very popular amongst Los Angelenos and tourists. The dishes and flavors, for the most part, do not exist on the East Coast. (Carlos & Gabby's is not authentic Mexican by comparison). Here's a pic of tacos from my last trip to LA:
As for the pop-up location, Pitopia's restaurant is small and narrow, so there will be no reservations and likely long lines down the block. Expect to take your food out, unless you're lucky enough to grab one of the restaurant's 6 seats.
The event was organized in part by Great Kosher Restaurants, who introduced the two restaurant owners to make this happen.
The menu for Tuesday night will be:
$14.99 for a choice of a burrito or 3 tacos of the following:
Birria – lamb braised in banana leaves with guajillo sauce for 10 hours.
Carnitas – brisket confit in duck fat. [Named as one of the best carnitas in Los Angeles by LAWeekly.com]
Pollo a la pibil – mayan style chicken, with a mix of aromatic and sweet flavors from the region
Sides – all dishes come with fried black beans and rice with a choice of different garnish from guacamole, pico de gallo, cilantro, pickled red onions, escabeche de carrots with jalapenos, and grilled cactus and more
Salsas – Mango habanero, chipotle, salsa verde ,and salsa rojo
The kashrut for the event is under Pitopia's kosher supervision: the OU.
As for Mexikosher's future in NYC? We know that there's a possibility New Yorkers may be seeing more of Mexikosher in the future. We'll report on it here should that ever become a reality.