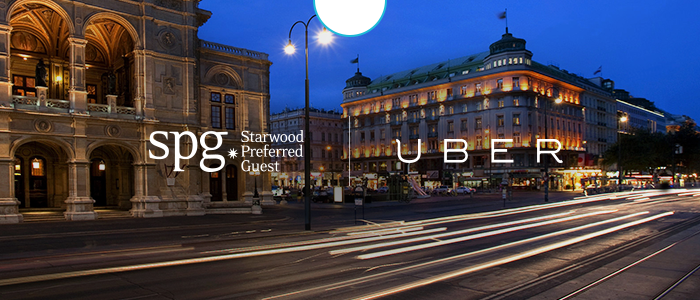 Starwood Hotels (SPG) and Uber announced a partnership today allowing Uber riders to earn SPG points, 1 point per dollar spent on an Uber ride. [Source: Uber Blog]
We've written about both companies before as both are very consumer friendly and worth looking into (we're fans!):
SPG points (Starpoints) may be the most valuable of all earnable hotel/airline/credit card points out there. We're big fans of the SPG American Express card which allows you to earn points much faster and gives you status at SPG properties. Read more here.
Uber is an awesome alternative to taxis in most major cities around the world. Use their app on your phone to hail a taxi, and get exceptional service, and no need to use a credit card or cash. We've written about that experience here as well.
>> CLICK HERE TO LINK YOUR SPG & UBER ACCOUNTS
TIPS: After syncing ourselves, here's what you need to know:
Your surname on both SPG & Uber accounts must be the same
Your email addresses on both accounts must be the same
The SPG website notes that you will start earning SPG points on Uber rides…

… 24 hours after you have both registered for the SPG-Uber benefits program and your first (paid) Stay has posted to your SPG Member account for the current calendar year. If you are registered for the SPG-Uber benefits program but do not have a Stay posted to your account for the current calendar year, you will begin earning Starpoints in accordance with the SPG-Uber benefits program 24 hours after your first Stay within the current calendar year posts to your SPG Member account.

It seems that award or credit stays are not eligible for this
If you have one and not the other….
Additionally, when using Uber for this promo there are other considerations brought up by DansDeals:
For 2016 you'll be able to earn points in January as long as you had a stay during 2015. From February 2016 until the end of the year you'll need to have had a 2016 stay at a Starwood hotel to earn Starpoints for Uber rides.

These Starpoints come on top of bonus points you can earn with your credit card. All American Express Membership Rewards cards earn an additional point per dollar on Uber spending (including 3 points per dollar earned on Uber with Everyday Preferred). The Chase Sapphire Preferred card also earns double points for Uber spending.  In fact you shouldn't use a Starwood AMEX for Uber as other cards are more valuable and you can earn these bonus Starpoints no matter what card you use.