As one of the Seven Wonders of the World, Petra is a major tourist attraction, with thousands of visitors every week. Being just a short journey from Israel, it is also a popular excursion from Eilat, Tel Aviv, and Jerusalem, for a day or two. Making the trip to Petra is simple, with a large range of tours available, with some travelers opting to make the journey independently. For Kosher travelers, there is often a challenge caused by the fact that there are no Kosher restaurants in Jordan. For those determined to make the trip a success, there are a few options available.
Before we get into the details of how to maintain a Kosher diet whilst visiting Petra, it's important to consider that the Jordanians in Petra host tourists making an excursion from Israel, and Israelis every day – being Jewish is not an issue. The is basically no hostility, and a huge business incentive to keep all visitors accommodated and comfortable, especially those from Israel, and especially Kosher travelers. As such, most people will go out of their way to accommodate Kosher travelers as well as possible – it's not an uncommon request.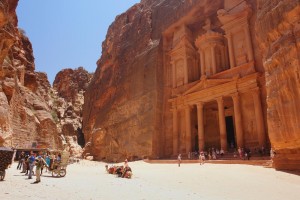 Most people who visit Petra as part of a trip in Israel one of the many one or two day tours to the city leaving from Eilat, Jerusalem, and Tel Aviv, every day. These offer a good value solution because the entrance fee to Petra for a one day visit is around $130, whilst the cost of a one day tour from Eilat around $220 (as of March 2015). The tours offered by specialist providers such as Petra from Israel who offer this one day tour also include guiding, transport, and lunch. Lunch! Meanwhile, two day tours usually include dinner and breakfast as well.
It is very common for these operators to have requests from Kosher travelers for Kosher meals. The cuisine in Jordan is Middle Eastern – mostly comprising of meat, rice, and salads, thus making most foods inedible for kosher keepers. Most lunch restaurants will offer a fish option if it's requested ahead of time, and if not, there is a selection of salads available. For some Kosher travelers, this is an acceptable solution.
Among those who are not able to eat in non-supervised restaurants, some decide to bring food with from Israel. Though Jordanian laws do not allow food to be brought across the border from Israel into Jordan, some people do ignore this and bring food with, but there is always a strong risk of confiscation, so it is not a good idea to rely on this as your only food source.
A safer option, perhaps, is to purchase fruit and vegetables, and other such produce in the village of Wadi Musa, next to Petra. On some group tours there will be time to do this, and in other cases you would need to travel away from a group, either independently, taking a bus or a taxi to Petra, or with a private guide. Most of the companies specializing in tours from Israel to Petra are well-versed in dealing with the needs of Kosher travelers and can give you the options based on your individual time-scale and budget.
Here's another perspective on keeping kosher in Jordan from "The Traveling Rabbi":
Kosher food can be a challenge in Jordan.  There are a lot of imports, but they are all from Arab countries.  Although we looked, we were unable to find any packaged food imported from Western countries and bearing any sort of hecksher.  However, there are markets nearly everywhere where you can buy fresh fruits and vegetables.  If you will eat pas palter, you can buy pita bread at any number of bakeries that produce only pita bread en masse.  For about 1 shekel's worth (about 25 cents US) you can get as many as 6 or 7 fresh pitas.  Because Jordan is right next door to Israel, it may be worth your while to stock up on food in Israel before traveling to Jordan.  Our guesthouse in Irbid (in Northern Jordan) also allowed us to kasher some of their pots and cook in their kitchen.
Ultimately, a visit to Petra is beyond words, and those who do sacrifice great food for a day or two, are more than satisfied with the experience that the amazing city has to offer. If you're visiting, consider taking a two day trip and touring the amazing desert landscape of Wadi Rum whilst you are there.
---
Ben Julius is the founder of Tourist Israel, Israel's largest independent tourism website.
---
Here are additional tips on entering Jordan by car from Israel from WikiTravel:
For many travelers, Visa on arrival for free is possible when entering Jordan and Israel, but all travelers must pay an exit tax, when leaving these countries. When leaving Jordan by ground, the exit fee is 10 JD (~14 USD), whereas when leaving Israel by ground the fee is 115 NIS (almost $30 USD).

Note that the borders close daily. On Shabbat in Israel, the borders close earlier, at 3 pm. Jordanian taxis and other tourism industry companies may try to convince you to pay expensive transportation fares to get across the border by 11 am or 10 am, claiming the border closes at these times.

When crossing by road, the exit fee from Israel is NIS105 (Feb 2014). Eilat Border Info (Arava Crossing)

Allenby/King Hussein Bridge Crossing – This is the closest border to Jerusalem; however, it may not be the most convenient. If you require a visa into Jordan it is not possible to obtain one at the King Hussein Bridge. You will have to prearrange a visa with the Jordanian embassy in your country (expensive), or if you are travelling through Tel Aviv you can wait at the Jordanian embassy there and get one on site (time consuming).

The King Hussein Bridge border crossing into Israel is very busy as it is the most popular crossing for people making the pilgrimage to Jerusalem. Expect long queues and waits.

Yitzhak Rabin/Arava border – Crossing in to Jordan from Eilat (Israel) is FREE of charge because you are entering a special economic Zone the ASEZ (Aqaba Special Economic Zone). A Visa will be admitted regarding to your nationality. Most EU members will either get 2 weeks or even 1 month of free visa (Israeli Citizens most likely will get 2 weeks). For further informations check http://www.your-guide-to-aqaba-jordan.com/visa_to_jordan.html

You do not have to get on a bus. You can just walk across. Israeli departure tax is 102 NIS (5 NIS commission if payed at the boarder, if you pay at the post office before it is free). Jordanian departure tax at the Arava border should be 10 JOD. Be aware of the taxi drivers. By law you are allowed to share a taxi with other tourist to get out of the military border zone. Walking or cycling might not be possible. Hitch-hiking seems to be impossible.