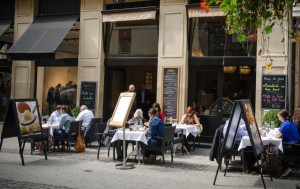 Nearly 6 months old (yet new to us), Brasserie Montefiore (known locally as "Montefiore Sul Palco") is a French style beautiful restaurant located in the heart of the historic and commercial center of Luxembourg. The high-end restaurant attempts to adhere to the mantra of serving "organic & natural, refined, fresh cuisine." The restaurant's partnership with the prestougious Brasserie de Luxembourg Mousel brewery enables them to offer a range of beverages from beer to champagne.
Click here to view their menu (It is not in English)
The restaurant offers multiple seating areas indoors, including a private room, as well as public seating out front.
According to the restaurant's owner, they are the only kosher restaurant within a 150 mile radius. That may be slightly overstating the truth (with kosher in Brussels, Belguim about 130+ miles away). Either way, if you're in the area and wanted to consider visiting Luxembourg, now you have a place to eat!
The restaurant's hours of operation are:
Monday – Friday:

Breakfast from 7am to 11am
Lunch b from 11:45 am to 3 pm

Sunday:
Kashrut under the Chief Rabbi of Luxembourg.