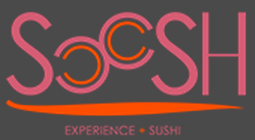 "Soosh" is a new Kosher sushi restaurant inside the Stamford Plaza Hotel in Stamford, CT that is currently open under their "soft launch" period as of this week.
The restaurant is actually located on the premises of two adjoining hotels: the newly renovated Stamford Plaza Hotel and the Holiday Inn Express & Suites.
Parking in the hotel garage is complementary for Soosh guests, including free valet parking directly in front of the restaurant. 15-minute parking is also available right in front of the restaurant for those picking up to go orders.
Soosh is under the hashgacha of the Kof-K.
The restaurant is open for business:
SUNDAY-THURSDAY: 11am-10pm
FRIDAY: 11am-2pm
SATURDAY NIGHT: 90 minutes after sunset until 1am
Source: GreatKosherRestaurants