UPDATE: We have been informed that this Sushi Metsuyan branch has been closed for good.
Last week I took my wife to Sushi Metsuyan in Cedarhurst for dinner for the first time in many years (we had been turned off by their level of service). We decided to give them another chance, but realized things were changing. One of the main things we noticed was that their famous, restaurant-long tropical fish tank was entirely empty and without glass. Since we had avoided the restaurant for a few years, we totally forgot that the tank was destroyed during Hurricane Sandy. (The news registered in my consciousness, but was still a shock upon seeing it nearly two years after the storm).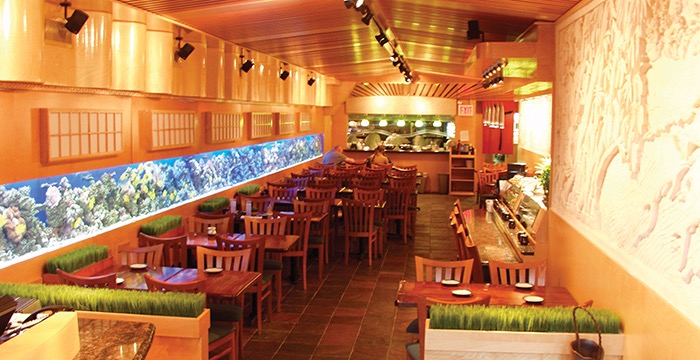 We learn this week that they're currently closing the restaurant in order to refurbish the tank and renovate the restaurant, a lengthy and costly endeavor.
H/T to Elan from GreatKosherRestaurants. Image via GreatKosherRestaursnts
In case you wanted to know how our meal was, it was surprisingly good. We opted not to get sushi and chose their Asian inspired steaks instead.
I had the Steak Sambal w/coconut rice, a Hanger steak with lime juice, which was quite tasty. My wife had the Steak Polynesia, which was a much fattier sweeter piece of meat, which she preferred.
We'll have to wait and see what comes Of the restaurant's renovations. We'll keep you posted.