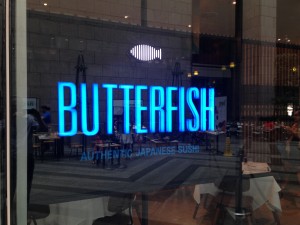 During the 9 Days last week, I was invited to do a tasting at the newly opened Prime Hospitality Group restaurant, Butterfish. Butterfish is in the location of a former Prime restaurant: Solo, inside the SONY building on Madison Ave. After Solo closed earlier this year, a non-kosher Japanese fish restaurant opened in its place, also named Butterfish. Prime Hospitality Group's owner, Joey Allaham, loved the idea and approached Butterfish's chef/owner to turn it kosher, and that's how we got to where we are now: a kosher Omakase restaurant, the first of its kind.
Omakase is a restaurant style popular in Japan where the diner does not order, but rather the chef brings out what is fresh and tasty that day.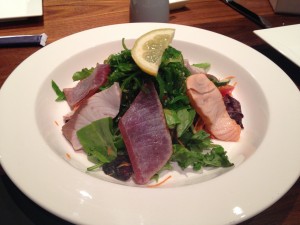 As a restaurant that primarily will cater to the Orthodox Jewish population, the Prime staff realized that there needs to be options. You can have the full Omakase experience or you can order a la carte off the menu. The chef goes out daily to pick fresh fish in the mornings, so you know you're getting quality seafood on your plate.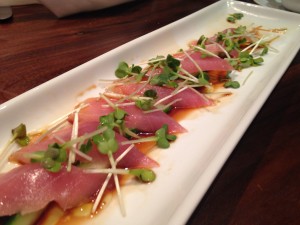 When I was invited in last week, I was brought into the restaurant's tasting room, a special room in the back able to seat 12 people enjoying whatever the chef brought out. Butterfish has 2 other private rooms that are also used to accommodate guests during busy dining hours. While I was handed a menu, I specifically asked them to bring out whatever they and the chef saw fit. I wanted the omakase experience. And that I got.
In all, 9 dishes were served, all fresh and delicious. Some were unique dishes that were not familiar to dishes that I've had at other sushi or Japanese restaurants.
On the familiar end, I was able to taste both the Yellowtail & Scottish Salmon sushi (fish on rice, not rolls) and it was literally like butter. Cold fish on warm rice makes for a delicious combination in your mouth.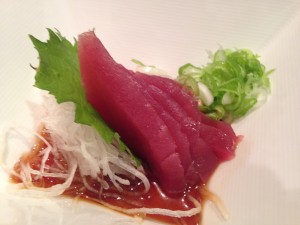 The Crunchy California roll is a traditional Cali roll with the addition of sweet sauce (just a drizzle, not too much) and bits of tempura flakes on top. The flakes & sauce added flavor and complexity to an otherwise standard nondescript roll.
My absolute favorites were the appetizer dishes. The Seared Sashimi Salad with Seaweed was displayed beautifully. The dish came with lightly seared pieces of tuna, salmon, and yellowtail on top of a salad of mesclun lettuce, delicious seaweed, and a sesame ponzu sauce that added a light toasty flavor to the dish. It was excellent.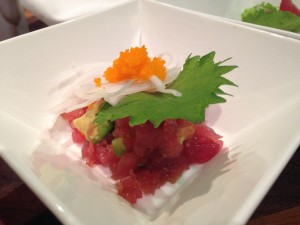 The Yellowtail Carpaccio was different from what I expected carpaccio to be, but nonetheless it was a great dish. The fish was served in more of a sashimi style in a long dish sitting on olive oil & ponzu sauce underneath scallion and daikon sprouts. The mix of flavors were new to me, but I enjoyed the light and fresh taste and would request it again.
The Tuna Tartare was equally interesting and tasty. The finely chopped fish was served with large pieces of sliced onion, avocado, and olive oil. I thought the addition of sliced onion would be an odd addition, but I was wrong. The onion worked so well with the fish and avocado, I may start requesting onion with my tuna/avocado rolls moving forward. Well done chef!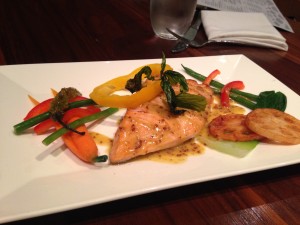 The Hitoshi New Style Tuna appetizer was a relatively simple but tasty dish that combined large round slices of tuna served with scallion on ponzu sauce. The flavors weren't heavy, and it was a refreshing dish overall.
Since it was the 9 Days, I was not able to try any of the meat entrees. The only entree that was brought out for me to taste was the Wild Salmon Poelé, cooked and drizzled with a citrus miso mustard sauce (again, not overwhelming), served with a mix of summer vegetables cooked in different ways. While salmon isn't my favorite of the fish options on the menu, I am still able to appreciate the flavors and the care that was taken in putting this dish together.
Overall, I found this meal to be tasty, refreshing, and light. If you appreciate fine, well prepared fish with non-overwhelming flavors, I highly recommend making a reservation at Butterfish. While I cannot actively recommend any of the meat dishes (including meat sushi!), in truth, the Prime Hospitality Group has so many top-notch meat restaurants, you're not coming to Butterfish to order a steak (although you could and I'm sure it's great). Come, order the fish, and enjoy.